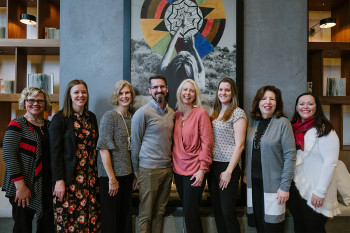 The continuing education administration (CE admin) team ensures that the online courses offered in Continued's professions meet the continuing education needs of our members in all 50 states.
The team comprises trained, experienced professionals from the disciplines Continued serves. CE administrators work closely with the editorial and education technology teams, and each profession is matched with a CE administrator trained in that field.
"What makes this team so special is their relentless pursuit of information pertinent to our members' learning needs." — Joanne Slater
CE administrators routinely collect information on state license and registry requirements, relevant associations and regulatory entities, renewal cycles, compliance courses, and more. They ensure that needed courses are offered for the types of credits most important to our members for renewing their licenses and certifications, and they report members' completed coursework to entities tracking completion. 
"What makes this team so special is their relentless pursuit of information pertinent to our members' learning needs," said Joanne Slater, AuD, CCC-A, director of CE administration at Continued.
"They take to heart that completing courses with Continued may make all the difference in our members' ability to maintain their license. We truly care about our members and will do the heavy lifting that is sometimes needed to manage the volume of course submission and reporting procedures." 
MEET THE CE ADMIN TEAM 
How does the CE admin team help to ensure a successful continuing education experience?
The CE admin team ensures that Continued offers the specific courses, types of credits, course completion records, and association reporting required for the licenses, certifications, and credentials our members hold. Our team members also monitor website functions that help customers easily identify courses that will meet their requirements, seamlessly complete those courses, and access accurate course records. We also assist the customer experience team in answering member questions on these topics. — Amy Natho, MS, CCC-SLP, CE administrator/assistant editor of Continued's SpeechPathology.com 
What are some of the things happening behind the scenes to ensure members get credit for the courses Continued offers? 
Each profession we serve has different requirements, which in some cases can vary greatly by state. We must frequently check all state boards for updates to rules and requirements, as this is ever changing. Additionally, there is a lot that goes on behind the scenes when it comes to acquiring course approvals for each state. We track all course approvals and update our system accordingly so that our members know what credits are available to them based on their profession, state, or other relevant associations and regulatory entities. — Josh Malcolm, PTA, CE administrator for Continued's PhysicalTherapy.com
Why is it valuable for each CE administrator to be trained in one of the fields we serve? 
Our individual expertise brings a unique perspective to the role. We each have an in-depth understanding of how professional associations, state associations, and additional credentialing entities work for licensure, as well as knowledge of current trends, updates, and needs for each field. — Nika Ball, MOT, OTR/L, ATP, CE administrator/assistant editor for Continued's OccupationalTherapy.com
"The subject-matter expertise of our team members gives them great insight into and empathy for the needs and pressures faced by our members when renewing their license or other credentials." — Joanne Slater 
What made you decide to transition from clinical work to the role you have today? 
I decided to transition from clinical work into my current role because I love diving into the details of administrative work. This role allowed me to do just that while remaining in the field I am so passionate about. I am able to stay connected to the clinical side of my work by continuing my private practice in a small capacity in my free time. It is exactly where I want to be! — Chelsea Richardson, MSW, CE administrator for Continued Social Work 
Why is continuing education so important? 
I love being able to play a small part in ensuring that our members have the resources necessary to serve their patients to the best of their abilities. The field of audiology is constantly evolving, but it now seems to be changing at an unprecedented rate. I've seen the impact that new technology can have on a patient, and in the hands of a skilled professional, the benefits can be life-changing. Audiologists are called to provide a better quality of life for our patients, and staying current on knowledge, technology, and best practices through continuing education has an important role in that. — April Dolan, AuD, CCC-A, CE administrator of Continued's AudiologyOnline
What fuels your desire to help others succeed with their continuing education?
Seeing the light of new knowledge dawn in someone's eyes is pure motivation to my teacher-heart. Every improvement to the way a person practices their profession and every step to better quality is due to learning. It is an honor to be part of the professional development experience for early educators who are dedicated to doing the right thing for children every day. — Kimberly Norris, MEd, CE administrator /assistant editor of Continued Early Childhood Education 
What makes the CE admin team special?
In addition to everything that is required at the course level, our CE admins are highly involved with our members from a customer service standpoint. We promptly field questions and address concerns about reporting cycles, license renewal deadlines, and CE requirements. Each CE admin goes above and beyond to provide answers and accurate information to our users. — Jill Connolly, CE administrative assistant
"Each CE admin goes above and beyond to provide answers and accurate information to our users."— Jill Connolly