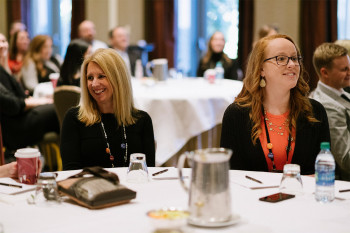 The education technology (ed tech) team supports all continuing education courses across continued's family of education websites. In collaboration with the editorial and CEU administration teams, the goal of the ed tech team is to provide a consistent and exceptional experience for continued's expert presenters and learners.
To support this goal, the ed tech team does a lot behind the scenes, from training and preparing continued's presenters on the technology, to reviewing all course materials and testing presenters' headsets and internet speeds. An ed tech team member is present during all live online courses to ensure presenters and members have a seamless experience free from any technical challenges. Then, once the course is recorded, it's up to this team to get it into continued's extensive course libraries. 
"The education technology team is the engine that makes 'all things education' run smoothly and efficiently for continued," said Leigha Jansen, EdD, CPACC, director of education technology. "Our team members work diligently to create a successful online experience for everyone involved and eliminate any surprises for presenters or learners during courses."
With nearly three quarters of a million course completions across continued's family of education websites last year alone, 97% of continued's learners reported a user experience free from technical challenges.
"We want to make it so easy for expert presenters to work for us and for professionals to learn with us that they come back to us time and time again," Jansen said. 
MEET THE EDUCATION TECHNOLOGY TEAM
How does the ed tech team help to ensure an enriching and successful online learning experience for our users and presenters?
"Our team is completely dedicated to making the experience as smooth and positive as possible. If I have an issue that's stumping me, I can reach out to my ed tech peeps for help to solve the problem. When you multiply our brain power, amazing things happen!" - Kimberly Rojas, instructional technology coordinator
What value does continued bring to the professionals we serve?
"What we do helps so many different professions. We facilitate keeping many different types of professionals well informed. On a personal note, when you have a child that needs the services of these professionals as I do, it makes what we do feel even more important and meaningful." - Anna Smith, continuing education manager
"This team has an overwhelming sense of ownership in their roles and work responsibilities. We understand that the overall goal for all of our members is a quality and robust learning experience, and we all work hard each day to achieve that." - Melissa Freund, continuing education manager 
What fuels your desire to help others succeed with their continuing education?
"Because I've always loved being a lifelong learner, I understand why someone would want to continue their education. Helping others succeed in doing that motivates me on a daily basis to make this the best experience for both our presenters and participants." - Kathleen Poliski, instructional technology coordinator
"Our culture is so special because we not only talk the talk, but we walk the walk. We put our culture into action, and we think about how we act in terms of that culture." - Anna Smith, continuing education manager
The education technology team meeting in Minneapolis included a team-building activity at an escape room. Because continued is a completely virtual company, team members enjoy the opportunity to collaborate and socialize in person when together at company meetings and retreats.

What makes the ed tech team special?
"The ed tech team is a special group of tech-savvy folks who also have strong one-on-one virtual training skills, giving them the ability to work with all types presenters, partners, and other team members. We also sprinkle in fun throughout the day ... we need the levity when managing between 15 to 30 classes in a week!" - Melissa Freund, continuing education manager 
What makes the culture at continued so special?
"Although we all work remotely, we still feel like friends. Everyone at the company is truly interested and invested in each other. It makes my heart happy to know that we are cared for by leadership, and for more than just our work. This is a culture I am not sure you can find in many other companies." - Caitlin Grefe, instructional technology specialist
"The ed tech team really personifies our company culture in terms of their ability to connect with each other throughout the day, whether it be to solve a problem or to share a recipe or to support one another both personally and professionally." - Leigha Jansen