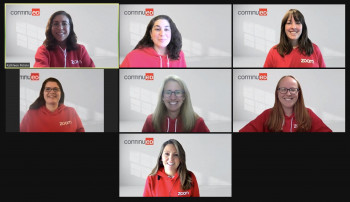 As leaders in both online learning and the fully remote workplace, the experts at Continued know that virtual events are here to stay.
For working, learning, and even socializing, one of the most widely used tools for connecting is Zoom. In fact, it was Apple's most downloaded app of 2020 and remained in the top 10 most popular apps of 2021.
Even before its recent rise in popularity, Continued recognized Zoom as a "best in class" tool and fully transitioned all webinars to the platform in 2020.
"With over one million course completions across Continued's family of education websites in 2021 alone, we are extremely proud that 98% of our learners reported a user experience free from technical challenges," said Leigha Jansen, EdD, CPACC, director of educational technology. "Offering our webinars via Zoom is one of the ways we offer an exceptional user experience for our members and our presenters." 
Want to get the most out of your Continued Zoom experience? Our team compiled these tips: 
To participate in a Continued webinar, all that is required is access to a computer or mobile device with the free Zoom application installed. 
Download and install the Zoom application on your device from the App Store or Google Play, and be sure to check for updates regularly.
We recommend you log in to a live webinar 15 minutes ahead of the scheduled start time in case there are any login issues with your computer. 
Instead of using the internal microphone on your computer or other device, use a headset or earbuds with a microphone for a clean, clear sound and minimal background noise. 
Check your speakers, microphone, and connection prior to Zooming at www.zoom.us/test.
To ask a question of the presenter during a live webinar, simply type your question in the Zoom Q&A window and click send. You may select to send your questions anonymously. 
If you are unable to successfully join the Zoom test meeting, please contact Continued's customer experience team immediately at 833-726-2408 so that we can assist you.