Leigha Jansen, EdD, offers insight into benefits of virtual work life through the years
I joined the Continued team 13 years ago and have watched both the company and my own children grow during that time. When I came on board, there were a mere 15 team members compared to the more than 100 of today. My youngest child was headed to kindergarten, and now he's headed to college this fall.  
Over the years, my virtual work routine has evolved as both my job responsibilities and my kids grew. Here's a glimpse at what virtual work looks like for me and a bit of reflection on how I've benefited from this workplace through the years!
5:30 am

The day begins at sunrise for an early workout with a dear running friend. Before I leave, I check work email for both Continued and Concordia St. Paul (CSP) and quickly review my calendar for the day. I'm also an adjunct professor at CSP and currently teach Communication Inquiry and Measurement (research methodology). The weekly synchronous session is later this evening, and the current cohort is a bright, inquisitive group.
I also jot a quick note for my son Grant, who has his last high school golf match and is driving MY car today.
A list of "lasts" is upon us as a family, as Grant is the youngest of the three Jansen children and heads to college this fall. Grant started kindergarten shortly after I started at Continued just over 13 years ago. Where has the time gone?  

"I joined the Continued team 13 years ago and have watched both the company and my own children grow during that time. When I came on board, there were a mere 15 team members compared to the more than 100 of today. My youngest child was headed to kindergarten, and now he's headed to college this fall." Pictured: Grant Jansen on his first day of kindergarten and as a senior in high school.
6:30 am
Arrive at Flyfeet Running, a high-intensity running, strength, and mobility training program. As a longtime distance runner, striving to increase speed, endurance, and strength is always a challenge. Today's workout was all about endurance, and I leave sweaty, tired, and completely fulfilled. 
The education technology team meeting in Minneapolis included a team-building activity at an escape room. Because Continued is a completely virtual company, team members enjoy the opportunity to collaborate and socialize in person when together at company meetings and retreats.

7:30 am
Fight the rush-hour traffic from Flyfeet to home. What is this nonsense? The greatest benefit of a virtual organization is the daily commute—or lack of!—just down the stairs to my home office.
8:00 am 
The day always begins sharing a virtual "good morning" and coffee with the educational technology team. The group is scattered from the eastern seaboard to the Colorado Rockies but brought together virtually with Slack. Our group chat continues throughout the day to solve technical problems, share information, and banter—with only the best memes and GIFs! Perhaps a few recipes get passed around as well! This is a tight-knit group of extraordinarily talented, caring individuals, and it is an honor to lead this team.
8:30 am
Email catch-up never seems to end. It's also a daily practice to spend at least 10-15 minutes reading from selected education and technology blogs to constantly learn from industry experts and consider the applications to Continued. Lifelong learning is a priority each day.
"Lifelong learning is a priority each day."
9:00 am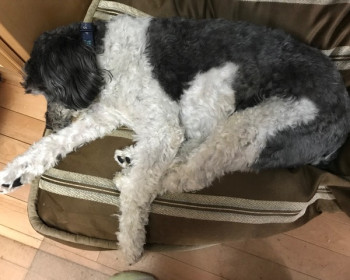 My trusty sidekick, Wilson, snores under the desk. My furry companion is a sweet, 10-year-old cockapoo, and everyone at Continued recognizes his friendly(?) bark! While Wilson dreams, the task at hand is testing a variety of microphones for an upcoming podcast project. I coordinate with another team member to meet in the online classroom and record a series of readings in order to compare the output of each microphone. It takes time to record, critique the results, and determine the optimal selection for our editors and expert presenters. Thank goodness the microphones didn't pick up the snoring dog!
10:00 am
For some virtual workers, the kitchen is a distraction and a nemesis. I often forget to eat during the day, so a 10 am alarm serves as a reminder to grab a healthy snack and a glass of water.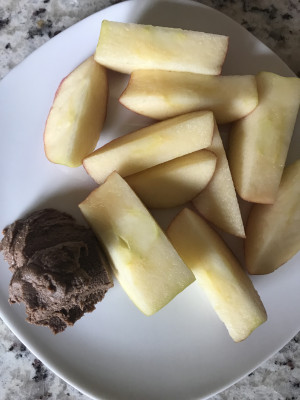 If you haven't tried db Brownie Batter Hummus, do yourself a favor and add it to your grocery list. Served with an apple, it's almost a Jedi mind trick!
"Alexa, let's start the day."
While answering emails, scheduling a presenter training, and munching my snack, Alexa provides a daily health tip, a prayer for the day, the weather, the word of the day, and a news update from National Public Radio. And, I'm on a sustained roll with Alexa's Question of the Day daily trivia game. Everyone needs a daily tidbit of mindless trivia, right? 
10:30 am 
It's time to log in to a weekly virtual team meeting via Zoom to continue a documentation project that will result in an online operations manual for the educational technology team. Producing course content for five different professional course libraries requires a detailed, collaborative process across the editorial, educational technology, and CEU administration teams. An hour quickly ticks by and ends with a completed product.   
11:30 am 
A quick text check-in with Grant. He shot a 39 on the front nine ... it's going to be a good day for the kid! I also hear from daughter number two, Ellie. She wants to join me at the gym for the noon adult fitness class. Yes, please! I spend a few minutes finding a perfect birthday meme to post on the company intranet for a coworker. We celebrate everyone's birthday at Continued with personalized themes, and it's always a fun challenge to post the perfect greeting.
11:50 am
Off to The Base - Sports Performance. For the last 10 years, the noon hour has served as a mental, physical, and social respite in the middle of the work day. Working from home can get lonely! Extroverts crave real facetime, and my body craves movement by noon each day. There are a group of regulars that are a gym family. Each person shares the highs and lows of each day, challenges the others to push past perceived limits, and most importantly, supports everyone in the gym family. For one hour, work is forgotten, goals are achieved, and laughter is shared.
1:15 pm
Back to the desk, which I change to a standing position, with a peach mango protein shake in hand for recovery.
Today's workout was a combination of strength and high-intensity interval training (HIIT) with the best partner—my daughter, Ellie. The sweat is dripping and I'm thankful athleisure attire is appropriate for the home office! I take a few minutes to clean up the email inbox and respond to Slack chat messages. Throughout the day, questions fly from colleagues across the organization. Sharing knowledge and proposing solutions provides the opportunity to build personal relationships with colleagues outside of the educational technology team. 
2:00 pm
A deadline looms for an intern job description. Carolyn Smaka, AuD, the editor in chief for Continued, proposed an internship program at the 2018 continued company meeting as part Innovation Incubator, an annual event that offers team members the opportunity to submit business ideas to leadership for consideration. The educational technology team presents a tremendous opportunity for a college student to explore the development, production, and evaluation of online continuing education, as well as exposure to best practices in continuing adult education. I am an educator at heart and can't wait to mentor a student outside of the traditional higher education classroom.  
3:00 pm
A quick trip to the kitchen to refill my water glass, and then it's back to login to our monthly manager meeting via Zoom. One of the most difficult aspects of working virtually is focusing 100% on a single task. Thus, it's important to close email and set the "do not disturb" option for messaging programs during important meetings and phone calls. Today's meeting topic is trust, which is the foundation element for effective leadership. A culture built on trust contributes to Continued's certification as a great workplace by the independent analysts at Great Place to Work. High-trust companies are less stressed, more organized, demonstrate a higher level of innovation, and simply have happier employees. The value of trust is a recurring theme relative to the strength of relationships and healthy communication within and outside the workplace.
"As a parent and a professional, a virtual office has represented the best of both worlds, as the kids have grown up quicker that I ever imagined possible. At Continued, I never felt pressured to choose between work and family. Looking back, this balance was a tremendous blessing."
4:00 pm
Grant is home and stops in my office to share the highs and lows of his golf match. Over the years, I've kept a chair in my office for the kids to stop and share a few minutes about the day. As a parent and a professional, a virtual office has represented the best of both worlds, as the kids have grown up quicker than I ever imagined possible. At Continued, I never felt pressured to choose between work and family. Looking back, this balance was a tremendous blessing.
A new normal will come to the forefront this fall when Grant leaves for college and there's no one to sit in the chair at the end of the school day. We teach our kids to be responsible, independent self-advocates, but it is bittersweet as they fly from the nest.  
4:15 pm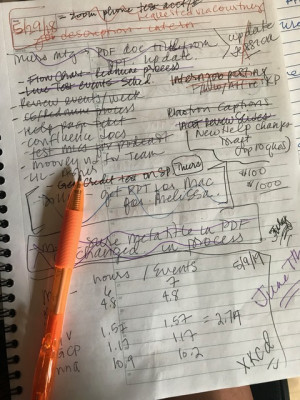 Each day, perusing the Continued project management programs for assigned tasks is a must. Commenting on and closing out tickets is always rewarding! The educational technology team begins to sign off for the day and always takes time to include a goodbye in the team chat, along with a positive message to the group. It's a thoughtful way to end the day! Wrapping up the day is always a reminder to reflect on accomplishments, as well as make a list of goals for the following day. I'm still an old-school list maker, so crossing off items is extremely motivating.
5:30 pm
A 20-minute walk with the dog, as HE needs some exercise after his daily napping grind. I check for emails from my cohort of CSP students and provide feedback relative to proposed capstone projects. Research methodology is one of my favorite courses to teach, second only to leadership communication.  As I prep for tonight's synchronous online session, I note the quiet in the house. The new normal is coming at a fast and furious pace.
8:00 pm 
The longest day of the week is coming to a close. The CSP students asked reflective questions and demonstrated gratitude for the feedback. It was a great day at Continued with productive meetings, projects completed, challenges resolved, and relationships strengthened.
Before I turn off the lights and close the door to my office, I pause to reflect on the upcoming day. Grant finishes high school tomorrow, and my memory effortlessly floats back to the day he proudly boarded the school bus for kindergarten. Thirteen years have blown by and provided us both with countless opportunities to grow on so many different levels: personal, professional, spiritual, and physical, to name a few. My heart remarks, "Opportunity seized and job well done."
But, what comes next with this new normal? The second greatest benefit of a virtual office is the ability to travel with said office. My husband, Mark, holds a position that affords him the opportunity to travel the world. Perhaps my next "day in the life" reflection will be written from Costa Rica or Ireland or California or Puerto Rico!
Until then, I'll close the work day with tired legs, a satisfied mind, and a heart filled with joy and gratitude.
___________________________________________________________________________________________________________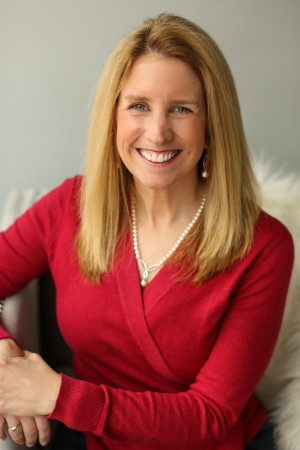 Leigha Jansen, EdD, CPACC, is the director of educational technology for Continued, a national provider of continuing education in the fields of early childhood education, audiology, occupational therapy, physical therapy, and speech-language pathology. Her 20+ year career has spanned from clinical care to education. She is a graduate of the University of Minnesota and the Fischler School of Education at Nova Southeastern University. Her research interests focus on the use of emerging technologies and effective continuing education methodologies for adult learners. She recently earned the Certified Professional in Accessibility Core Competencies (CPACC) credential and is passionate about website accessibility relative to learning.
Dr. Jansen serves on the International Association for Continuing Education and Training (IACET) Board of Directors and is an adjunct faculty member at Concordia University School of Business and Technology in St. Paul, Minnesota.
Dr. Jansen resides in the Twin Cities of Minneapolis and St. Paul with her husband and the family dog, Wilson. All three Jansen children are happy, well-adjusted young adults living semi-independently in the Twin Cities.