At Continued, we have a team that is more like a family. What's our common DNA? A willingness to collaborate, high levels of motivation, an appreciation for others, creative thinking, and a passion for lifelong learning. Get to know our family member Josh Malcolm and how he illustrates the six sides to our story. 
Josh Malcolm joined the Continued family in 2016 and has since served in two different roles. He first came on board with the Education Technology team as an instructional technology coordinator and recently transitioned to CEU administrator for continued's PhysicalTherapy.com.
Malcolm spent several years as a music educator before going back to school to become a licensed physical therapist assistant (PTA). He went on to pursue a master's degree in instructional systems and learning technologies and has applied his background in education, physical therapy, and instructional design to the positions he's held with Continued.
In his current role, Malcolm works with the accrediting bodies within the physical therapy profession to ensure PhysicalTherapy.com's courses are approved across all 50 states.
Malcolm lives in Overland Park, Kansas, with his six-year-old daughter, Claire.
What do you like best about your job?
I appreciate the focus on quality. In my previous role as an instructional technology coordinator, I enjoyed working with our presenters and editors toward finding the best way to present and produce content that would fill our member needs. I feel blessed to have worked with so many experts from all over the world. In my current role as CEU admin for Continued's PhysicalTherapy.com, I enjoy the challenge of critically thinking how to best present our materials to accrediting entities for approval, as attention to detail is important. I also like working with our members to help them navigate the best approach toward their state requirements for license renewal.
What makes you most proud to work for Continued?
I love the Continued family. I have had the opportunity to collaborate with many of the company's employees, and the one constant is that they all give their best. The professionalism is contagious, and gives me the drive to want to do my best for our members and my colleagues.
From a personal standpoint, I joined Continued when my wife was being treated for cancer. The flexibility of working from home allowed me to be there with her and our daughter during what would be her final months. When she passed, the company really rallied around me with no hesitation, and I realized how much we all care about each other. Even [company co-founder and owner] Aimee LaCalle reached out personally to me. Family is not a loose term with this group.
What is your favorite company memory?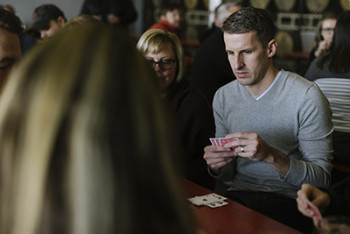 I have so many fun memories, but I would say my favorite was meeting everyone face-to-face for the first time at the company meeting. Being an introvert, I was very uncomfortable with the idea of meeting all these "strangers" face-to-face, but I quickly realized that is not the case. Other than the awkwardness of trying to match profile pictures you've always looked at to the real person, meeting everyone for the first time felt like seeing long-lost friends. It was then that I knew what this company means to everyone and how we all value each other. Since we are 100% virtual, communication is so important, but not just from a business standpoint. We get to know each other personally and navigate the highs and lows together.
"To me, the most unique core value of our company is the emphasis placed on acting like an owner. That is something no one has ever asked of me as an employee. But, no matter who I connect with in the company, I see and hear this core value. It's contagious, and it makes me want to be a better team member." - Josh Malcolm
What do you do to get rid of stress?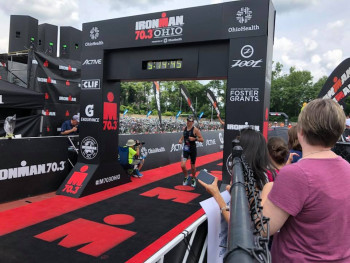 My go-to stress reliever has always been to do some sort of physical activity. I started competitive swimming when I was 5, so water has always been a reprieve. I am the calmest when in any body of water. If that's not available, I go for a run. Thirty minutes later the endorphins have done their job and I can move on. Speaking of running, at the 2017 company meeting in St. Petersburg, Florida, several of us runners found each other and met up to run together. This group included [Continued CEO] Tony Perlak, [former Continued CTO] Dave Walters, and [Educational Technology Director] Leigha Jansen, who was my supervisor at the time. It was such a cool thing to get out and run with these leaders in our company, which to me only reinforced the family culture that Continued values from the top down.
Excluding faith, family, or friends, what are three things you can't live without?
Malcolm marched and taught in the Bluecoats Drum & Bugle Corps of Canton, Ohio, from 1999-2005 and credits this experience for the work ethic and attention to detail he applies to his career and life.

Music
The opportunity to explore
Definitely sleep (it's my favorite)
Is there a particular mantra you live by?
Our CEO Tony Perlak once said, "When doing something for the first time, you have to be absolutely fearless." I'm not sure if it's his, but I'll give him credit. That stuck with me, as it applies to work and life daily.