Question

What are conversation stoppers?

Answer
Conversation stoppers are just what they sound like. They stop conversations with others, especially children. I think it is important to think about and practice things that stop conversations so you are more likely to not use them. You may ask a question and realize that it stopped the conversation. When I asked my college students to come up with some conversation stoppers, they were so good at supplying them. It makes me wonder if they have had a lot of people that have used techniques talking to them that have stopped conversations.
Once we start practicing them, I am sure you are going to think of so many times where somebody has said something to you where you immediately thought, "I am not talking to you anymore." We do not want children to think like that.
Missing a child's conversation clues
Immediately correcting a child's grammar
Supplying unnecessary facts or opinions
Providing unsolicited advice
Inappropriate questioning techniques
If you miss a child's chance at talking to you, that is certainly a conversation stopper. If you have a child that says, "Come sit with me, Mrs. T." and you do not, that is definitely a way to stop a conversation with that child.
Another conversation stopper is if you immediately correct a child's grammar or pronunciation of something. If you have a child that says, "Mrs. T I brunj you some flowers," and you say, "No, you did not. You brought them to me." That child is immediately going to think, "Okay, she does not like what I said. She does not like what I have done. I am not going to push this any further." This ends a possible conversation with that child. There is a better way to correct what they say if they say something that is not correct that is a lot more gentle and helpful to them than immediately jumping back with the correction. We will talk about that technique in just a minute.
Supplying unnecessary facts and opinions can stop a conversation. If a child is trying to start a conversation with you and you counter with, "I already know that" or, "Yes, and this is also true about that," the child will likely not want to continue to talk to you. If you are constantly adding one more thing that seems better than what that child has to say, they are eventually going to think, "Well, what I say, good enough for this person" and they may not continue that conversation with you. Avoid supplying unnecessary banter, back and forth with a child. Sometimes this is hard to do with adults. I am sure you can think of an adult who does this to you.
Providing unsolicited advice can also stop a conversation. If something happens to a child and you respond, "Well, I knew that was going to happen. You should have seen that coming. That is what happens when you do this and that." Providing that unsolicited advice does not help your chances of having a conversation with that child.
Another conversation we have already touched on is inappropriate questioning techniques. This includes a barrage of questions that do not allow a child to even think about what they are answering. They are constantly answering one right after the other, which does not help a child in their attempt to have a conversation with you.
It is time to practice some conversation stoppers. This will help you think twice about actually employing them in your conversations with children and others.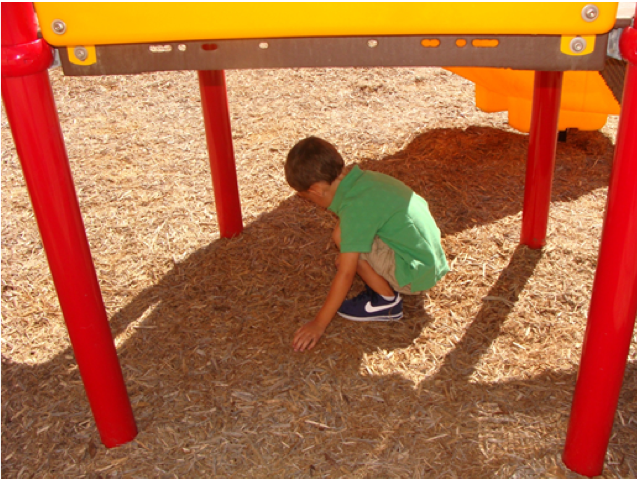 Figure 5. Boy under playground equipment.
The little boy in figure 5 is playing in some mulch under a piece of playground equipment. If I approached him and said, "You need to get out of there. We do not play in the mulch," or, "Keep the mulch on the ground. Why don't you go play somewhere else?" I might want to encourage the child to play somewhere else, but if I do not engage him in conversation, it may be a harder attempt to move him or redirect him out of that situation. Instead, I might ask, "What are you looking for? Is there something interesting under the playground equipment? Have you found something in the mulch?"
There are so many possible questions that could have been asked that would start a conversation that we have missed by trying to immediately redirect that child into whatever we think is more appropriate. We want to have that conversation with the child. We want to give them a chance to talk to us and tell us why they are under the equipment. Are they trying to get away from somebody? Ask those good questions that start a conversation, rather than just trying to hurry a child out of a situation.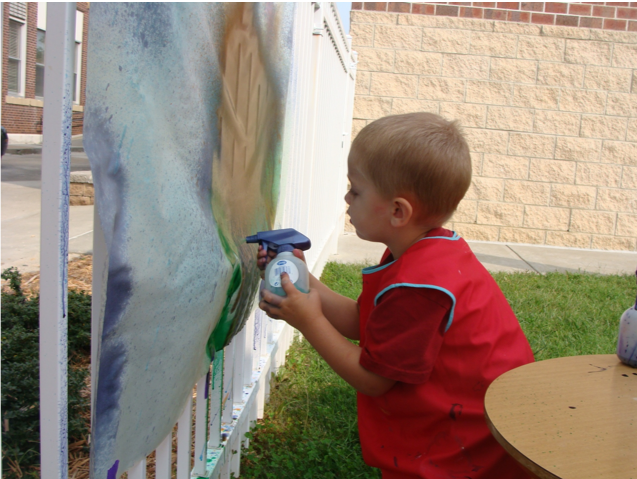 Figure 6. Boy with spray bottle painting a sheet outside.
Figure 6 shows a little boy who is using a spray bottle to spray paint onto a sheet of paper that we have hooked onto our playground fence. We are certainly not afraid of mess and this is certainly a messy activity. In this situation, there are some great ways to spark a conversation with this child. However, if I said one of the following it is not helpful to the child.
You are too close to the paper.
Why did you pick that color?
You are making a mess.
You are getting that all over your hands.
Do not get that on your clothes.
We might encourage a child to try a different technique if what they are doing is not working. But if it is working for them, it would be better to ask questions about what colors they have used and not insinuate that the colors that they chose were inappropriate.
Be very careful not to quickly make a statement that sounds judgmental or ask a question that the child simply cannot answer. This might make a child feel like what they are doing is not good enough, is not correct, or is not appropriate. We want that child to enjoy what they are doing. We want them to be able to tell us about what they are doing because that helps reinforce the skills that are being built during that activity.
Avoid conversation stoppers. Think twice before you just try to scurry a child out of a situation or you try to correct something that they are doing. Think of a way to turn it into a good conversation rather than just a directive to that child.
This Ask the Expert is an edited excerpt from the course, Positive Verbal Strategies for Connecting with Children, presented by Amber Tankersley, PhD.