Earlier this year, Nick DeRose determined he wasn't taking full advantage of the benefits a remote workplace can offer. After serving on Continued's 100% virtual team for six years, he set out to make more of his virtual office—by moving to Costa Rica.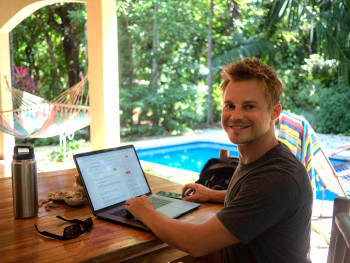 With the support and encouragement from his team, DeRose relocated from Denver and traded the snow for a six-month stay on the sandy shore of Nosara, a village on Costa Rica's Nicoya Peninsula. 
From there, he leads the user interface/user experience (UI/UX) team, which works with multiple people across the company to ensure each of Continued's learning sites offer the best possible online experience for its members. 
"Working for Continued gives me the freedom to live where I want, so I decided it's time to take full advantage of that," DeRose said.
"Since coming to Costa Rica, I wake up each day and cherish the fact that I'm able to do my job from this beautiful place. It's been an amazing experience for sure."
"Working for Continued gives me the freedom to live where I want, so I decided it's time to take full advantage of that."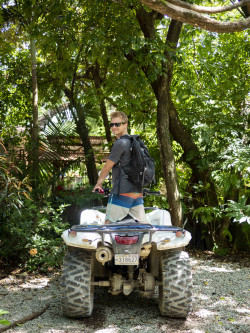 DeRose has always possessed an appetite for travel. Originally from Michigan, he traveled to Southeast Asia for three months after graduating college before relocating to Denver. During his time at Continued, he's combined a bit of travel with work, including a one-month trip along the entire California coast. 
"New experiences are something I crave," DeRose said. "It's been a lot of fun just being able to take off and go where I want while working the entire time." 
When choosing a place to live for an extended period, DeRose says he took a chance on Costa Rica because of its beautiful beaches.  
"I came for the beauty but stayed because of the community," DeRose said. "There's a big expat population here, and I've quickly gotten to know a lot of people around town." 
He spends his weekdays working in his rented casita or from local restaurants and spends the weekends deep sea fishing, surfing, and waterfall hopping. He enjoys photographing the local landscape and is working on a children's book about sustainability, one of his passions. 
DeRose says he feels supported at Continued in his desire to travel and knows it's a love he shares with many other team members, including two coworkers who traveled to 13 countries in a year and another who has taken his office across the country in a recreational vehicle.
"From day one at this company, I could feel the support professionally and personally."
"Everybody has made me feel like it's awesome that I'm doing this," DeRose said. "From day one at this company, I could feel the support professionally and personally."