As part of a completely virtual workforce, the team members of Continued accomplish their goals and advance the organization's mission independent of geography. The online continuing education company's nearly 100 employees work from home offices in various locations across the United States. For two Continued employees, though, their offices recently journeyed with them on a yearlong trip around the world.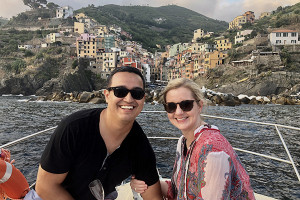 Through a program called Remote Year, Kelly Mullins and Ronaldo Olivas packed their suitcases—with their laptops, phones, and headsets—and embarked on a 12-month adventure abroad without pressing pause on their careers. The two traveled through parts of Europe, Northern Africa, and South America, checking off one bucket list item at a time without missing a beat with work.
Remote Year provides work and travel programs that make it logistically easier for professionals to travel the world while working remotely. Participants in Remote Year's four- or 12-month programs pay a fee that covers travel, transportation, housing, and full-time access to coworking spaces.
"Remote Year was our landlord and our travel agent and made it more feasible for us to travel while continuing to work," said Olivas, who leads Continued's customer experience team as director of marketing and sales retention. "Workwise, we continued to do what we normally do every day but just happened to be in other countries while we did it."
Mullins, design director for Continued, was on assignment in San Miguel de Allende, Mexico, when she connected with her Continued colleague, Olivas, who was living and working there at the time. Olivas had already applied for Remote Year before connecting with Mullins. The couple began dating while working in San Miguel and decided to participate in the program together.
"Remote Year was a great way to experience new things, but I also knew it would offer a big creative benefit to my job as well," Mullins said.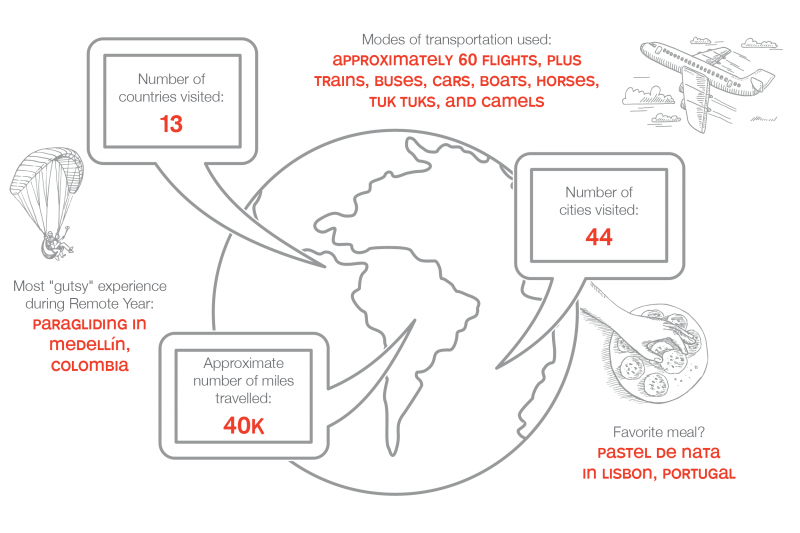 Along with 50 fellow Remote Year participants, they took up residence in one-month increments in Split, Croatia; Prague, Czech Republic; Lisbon, Portugal; Valencia, Spain; Buenos Aires, Argentina; Medellin, Colombia; Bogota, Colombia; and Mexico City, with two breaks during the year to return to the U.S.
Weekends were spent traveling and exploring each region they visited, which enabled them to experience 13 countries and 44 towns and cities. During the workweek, they maintained the same working hours as their coworkers in the U.S.
"We took the onus on us to make sure it was seamless for our colleagues," Olivas said. "The company was amazing for allowing us to do this and for trusting us and supporting our desires to travel, but we didn't want to put anyone out or make it seem like anything changed. We were committed to making sure our performance and deliverables never wavered."
Mullins noted that Continued's company culture made this such a supportive and positive experience for them.
"The trust our company gives its employees is invaluable," Mullins said. "We are lucky to work for such a progressive company where everyone works remotely already, and we know our leaders believe in us and trust us to do what is best for the company no matter where we are. The leadership of Continued recognizes that people are happier when they're getting to do things they enjoy in work and in life. You bring a better attitude to work every day when you're allowed to do the things you love."
"We are lucky to work for such a progressive company where everyone works remotely already. The leadership of Continued recognizes that people are happier when they're getting to do things they enjoy in work and in life."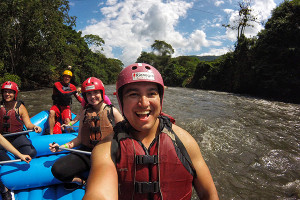 The couple worked from their apartments when possible but also used the coworking spaces provided by Remote Year, which offered not only valuable resources but also interaction with fellow Remote Year participants. Olivas found that conducting his daily work while living abroad enabled him to examine processes, recognize inefficiencies, and make improvements to workflow.
"The time I was at work became that much more valuable, and I wanted to produce as much as possible in the time I allotted for work," Olivas said. "Being stimulated by new languages and seeing new things and experiencing different cultures translates into being more engaged and more excited about work."
Mullins added, "Design and inspiration-wise, traveling affects your work in a unique and unparalleled way. The more I see, the better my designs get."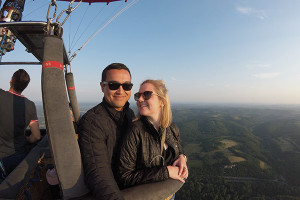 Although their Remote Year program has come to an end, the couple continues to travel. Following a brief hiatus in the U.S., they departed for an extended trip to Italy, where they again worked throughout their travels.
"There are many ways to enjoy the advantages of remote work depending on your lifestyle and circumstances," Olivas said. "We just happen to be taking advantage of the remote benefits in this way. Our travel is to an extreme extent, but anyone in a virtual workplace can evolve how they use their time to see and explore new things by combining work with travel."
Kelly and Ronaldo were married in November of 2019. The couple resides in Mandeville, Louisiana, but they continue to travel while working remotely every chance they get, often working from Ronaldo's hometown of Santa Fe, New Mexico.