Question

What is the difference between sensory language and feeling language?

Answer
There's a difference between sensations and feelings. When sensations or feelings are triggered by an event, there's a release or charge of energy that happens within our body. In fact, when we have emotional buttons pushed, we release toxic stress chemicals to the hypothalamus pituitary adrenal axis, which sends stress chemicals through our body. This tells us we need to fight, flight, and freeze and also sends messages that we're not safe and we're in danger.
One of the ways that our body expresses this charging event is through sensations in our body. These are physiological happenings in the body due to the energy charge the body experiences or feels. Examples include my head hurts, I have a pit in my stomach, my palms are sweaty, or I'm shaky. Your body is really communicating the intensity of that experience.
Feelings are the words that describe how you feel. As I said, they can be mad, angry, frustrated, or sad, but they can also be small, medium, or large. They are also triggered by an experience.
The figure below is from our book, Trauma-Informed Practices for Early Childhood Educators. It shows and explains sensory language versus feeling language.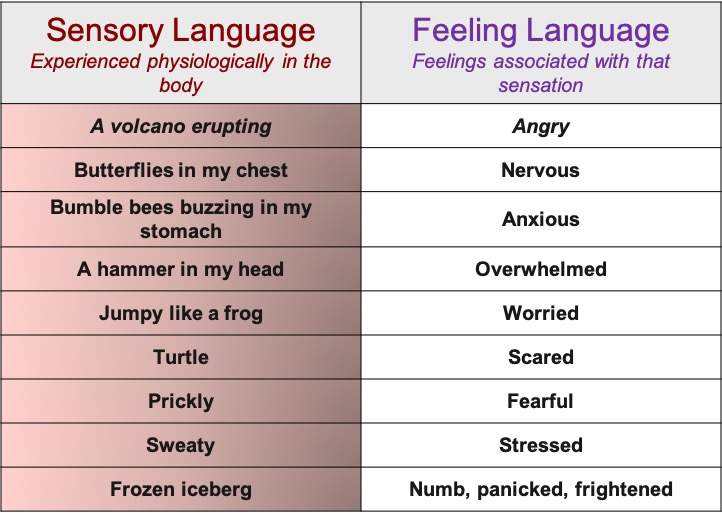 Sensory language is in the left column and feeling language is in the right column. It is helpful to teach kids sensory language as well as feeling language so they can recognize the sensory symptoms in their body as a clue that they might have a button pushed. Examples of sensory language include:
Does it feel like butterflies are in your chest?
Does it feel like bumblebees are buzzing in your stomach?
Do you feel jumpy like a frog?
Do you feel slow like a turtle?
It's tuning them into the body sensations and feeling language such as scared, anxious, nervous, panicked, stressed. Those are language words that identify emotions. We want to teach children both.
This Ask the Expert is an edited excerpt from the course, Preventing Challenging Behaviors, in partnership with Region 9 Head Start Association, presented by Julie Kurtz, MS.