A roundtable discussion with Continued's HR director and our health + wellness manager on predominant challenges + looking ahead
A year has passed since the global pandemic forced an unprecedented shift in the way many of us live and do business. 
Even with more than two decades of experience as a 100% virtual workplace, Continued has faced unique remote-work challenges in these current circumstances. 
HR director Asher Primrose and health and wellness manager Amy Martin discuss a few of the predominant challenges and where we are as a company one year into the pandemic. 
"We have strived to reassure team members that we understand these challenges and that ultimately, their health and wellbeing is our first priority." — Asher Primrose
WORKING FROM HOME WITH KIDS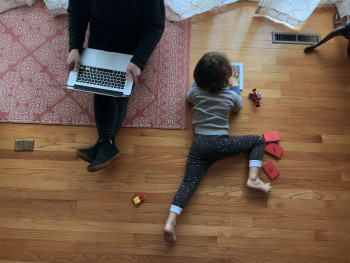 Asher: Many of our team members have experienced challenges with childcare, or they have kids who are learning from home rather than in a traditional school setting.
First and foremost, we have strived to reassure team members that we understand these challenges and that ultimately, their health and wellbeing is our first priority. We trust our team to meet our customers' needs and therefore will continue to work with each team member on the schedule that works best for them in these unprecedented times.
In addition to added flexibility and grace, we put a few concrete programs in place to help our team with family challenges.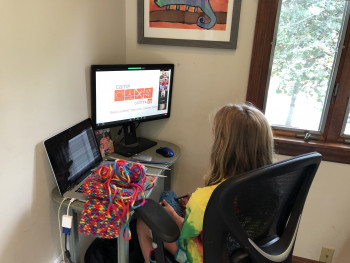 One initiative was a summer program we coined "Camp Continued," which consisted of live recordings and Zoom events to help entertain team members' kids and teach new skills. Numerous team members and their families contributed to the content, which included courses in art, cooking, improv, crochet, gaming, coding, LEGO creations, and more. 
Many of our team members' kids have had to adapt to new learning techniques while being schooled at home virtually. As an added benefit to these families, we partnered with an educational support consultancy to provide support with unique learning needs and general education advice, including one-on-one consulting and group webinars.
Interestingly, productivity has not waned despite the need for more flexibility this year. This really speaks to the dedication of our team and our company's overall commitment to team members' wellness and happiness.  
HEALTH AND WELLNESS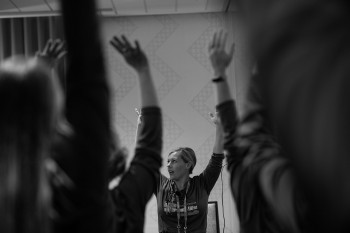 Amy: Overall, wellness has been a challenge for many. All aspects of wellness, from physical, psychological, and social have been impacted by the pandemic. The past year has been more about focusing on mental health and establishing an attainable routine to get through the day. 
Luckily our company was ahead of the curve with our many wellness benefits, including health coaching, and we were poised to help our team members with one-on-one support. With family members at home during the pandemic, many team members needed ideas for self-care, stress relief, and how to get a workout in their busy day. 
We added additional workout and stress-relief sessions via Zoom that team members had the option to attend. We also added a Slack channel dedicated specifically to meditation and an optional book club centered on wellness topics. These efforts added a layer of social activity for everyone to come together and do something good for themselves and to chat with each other.
Our company already prioritized health and wellness, but the pandemic has caused us to place an even stronger emphasis on self-care.
HIRING & ONBOARDING
Asher: Before the pandemic, an in-person interview was conducted with final candidates, but the pandemic forced us to forgo in-person interviews when hiring new team members. Although we have still been very successful in hiring over the past year, this is a personal touch that I know new team members and hiring managers alike really miss.
We've always been very deliberate with our onboarding process, but we have enhanced this process even more to ensure new team members feel a personal connection when joining the company. Managers have an extensive onboarding checklist and frequent touch points with new hires, and I follow up at 30 days to check for any needs. 
The pandemic has necessitated an even more intentional onboarding process, and we plan to continue this more structured onboarding within teams moving forward. 
LOOKING AHEAD 
Asher: I will be glad when we can resume in-person interviews with final candidates. It's something that differentiates us from other remote companies and increases the feeling of connection with new team members. 
I also look forward to resuming our annual company meeting. It is such an important way for folks to forge connections and interact on a casual level. 
Amy: Agreed! The 2019 all-company meeting in Palm Springs was the last time we were all together in person. Since then, we've hired 35+ new team members who have yet to experience the company meeting!
Read more on tips from the Continued team on working from home
_____________________________________________________________________________________________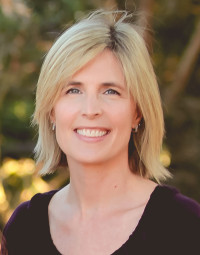 Asher Primrose brings more than 20 years of Human Resources experience in small and medium-sized companies with deep specialty in performance management and employee/manager development.
She came to LaCalle Group—the parent company of Continued and Simucase—after 12 years with Hitachi Consulting, where she led their global performance management strategy and programs. In her role, she manages all aspects of HR, including recruiting, employee engagement and development, company culture enhancement, management training, performance management, compensation strategy, benefits and wellness programs, HR policy, and employee data management.
Primrose has a BA in sociology from UCLA and is a Certified Birkman Method consultant. She was named a "For All Leader" by Great Place to Work in 2020.
Primrose lives in Los Angeles with her two children and two rescue dogs.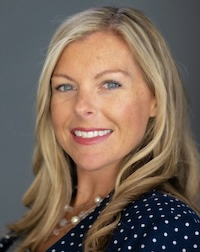 Amy Martin is an experienced allied health professional with a progressive background in the e-learning industry and various fields of healthcare. 
As the Health and Wellness Manager for Continued and Simucase, Martin manages all company wellness initiatives and also provides one-on-one health coaching to team members to educate and support them in achieving their personal health goals through lifestyle and behavior adjustments. 
Martin joined the company after spending five years as a licensed physical therapist assistant in a variety of healthcare settings. She holds a BS in organizational leadership from Western Kentucky University and a physical therapist assistant associate's degree from Madisonville Community College. She is also a certified health coach. 
When not traveling across the country in their airstream, Martin and her husband and son live in Merritt Island, Florida.