Question

What are key engagement drivers for the development and retention of highly engaged employees?

Answer
Aon Hewitt has completed research and identified key engagement drivers in an organization for the development and retention of highly engaged employees. Figure 1 shows these six key engagement drivers and examples of each.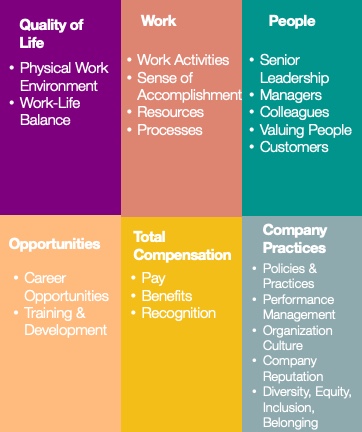 Figure 1. Key engagement drivers.
The six key engagement drivers are quality of life, work, people, opportunities, total compensation, and company practices. Under quality of life, there is the physical work environment and work-life balance. In work, there are work activities, a sense of accomplishment, resources, and processes. The category of people includes senior leadership, managers, colleagues, valuing people, and customers. Opportunities include career opportunities and training and development. Under total compensation, you see pay, benefits, and recognition. Within company practices are policies and practices. That is all of the different things in terms of performance management, which would be evaluations and what you are doing to help people succeed. We discussed organizational culture earlier. How does it feel there? Is it toxic? Is it healthy? What do you have going on? What kind of culture are you developing? The company reputation is how you are seen by the public. Also included in company practices are diversity, equity, inclusion, and belonging.
Appreciation and recognition affect each and every one of these areas. As a leader, you can have influence in some or maybe all of these key drivers that affect employee engagement.
This Ask the Expert is an edited excerpt from the course, Appreciation & Recognition: Supporting Employee Engagement, presented by Katie Ryan Fotiadis, MSHROD, CNP.