At Continued, we have a team that is more like a family. What's our common DNA? A willingness to collaborate, high levels of motivation, an appreciation for others, creative thinking, and a passion for lifelong learning. Get to know our family member Nick Baker and how he illustrates the six sides to our story. 
Nick Baker has been a part of the Continued team for a decade. As development manager, he oversees the learning content management system team and makes sure all things run smoothly on the back end of Continued's online classrooms. He and his team develop, repair, improve, and maintain Continued's learning sites and ensure they are functional, secure, and stable.
Baker held development roles at AOL and Comcast before starting his own consulting firm. He consulted with Continued on a contract basis before coming on board full time in 2010. 
Baker is a dad to four (plus one on the way!) and lives in a suburb of Albuquerque, New Mexico, with his wife, Mandi. 
What do you like best about your job?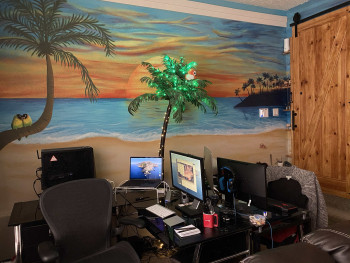 I love the people and how much we all care about our culture. This isn't just any company; this company is my career. I've wanted to grow with this company ever since I joined it, and I haven't looked back since. 
I also appreciate the ability to work from home, which allows me to spend more quality time with my family. 
What book has had the greatest impact on your life? 
The book that had the most impact on my life was the intro to QBasic book that came with my first computer. It helped me make my first tiny applications—a little screensaver loop and then a tic-tac-toe game. It ultimately sparked my entire career in computers and helped me fall in love with software development.
What would someone be surprised to learn about you? 
I used to play piano competitively—yes, it's a real thing! I participated in scales competitions and sight reading and won first place multiple years in a row. I enjoyed playing piano, but the competition aspect of it that was encouraged by my teachers ended up ruining a lot of the fun and stress relief I enjoyed about playing. I've since switched gears and play guitar when I want to unwind.
"This isn't just any company; this company is my career. I've wanted to grow with this company ever since I joined it, and I haven't looked back since."
Baker says he enjoys working from home because it allows him more quality time with his family. The backyard putting green is one of the many activities they enjoy as a family at their New Mexico home.

If you could have any superpower, what would it be? 
My answer to this question has evolved over the years as I've matured. I desperately wanted to fly when I was a teenager, but now that I have a car, that's less useful. I really wanted to read minds when I was in college, but now that I am older and have practiced empathy, that's less wanted. Right now if I could pick any superpower, it would be self-regeneration. My body doesn't quite heal the way it used to, and I sure would like to be able to bounce back quicker from something as iniquitous as "sleeping wrong."
Excluding faith, family, or friends, what are three things you can't live without?
Internet
Jacuzzis
Whiteboards
What makes you most proud to work for Continued?
Everyone is professional and cares about the product, mission, and one another. I work with fantastic people and in a culture that is nurturing and fosters developmental growth. I also feel good about the product we create and think what we do as a company makes a positive difference in the world.