At Continued, we have a team that is more like a family. What's our common DNA? A willingness to collaborate, high levels of motivation, an appreciation for others, creative thinking, and a passion for lifelong learning. Get to know our family member Andrea Thompson and how she illustrates the six sides to our story.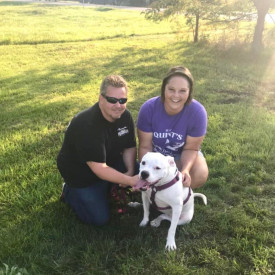 Andrea Thompson joined the Continued family a decade ago and serves as controller for Continued's parent company. Upon joining the team, she was tasked with establishing and revamping systems related to financial tracking, customer invoicing, and company payroll. Today, she manages all financial responsibilities company-wide.
Prior to joining the company, Thompson oversaw accounting for a construction company and had her own bookkeeping business. 
Thompson lives in Wayland, Michigan, with her husband and their many furry friends and reptiles.  
What do you like best about your job?
I appreciate the ability to decide what I work on at different times during the day. Some tasks require more brain power than others, and if I'm not in the right headspace, I can push one of those tasks to later in the day. This freedom allows me to be in the right mindset for all the various things that need to be accomplished—keeping deadlines in mind, of course. 
Thompson has two horses and enjoys riding as a meaningful hobby and way to reduce stress.

What is something people might be surprised to learn about you? 
My husband and I have two dogs, two cats, two horses, three snakes, and a bearded dragon.
What do you do to get rid of stress?
I enjoy horseback riding, playing with the dogs in the yard, or just lying on the ground under a shade tree with a good book. Nature brings me back to center and grounds me.
What piece of advice would you give your college self?
Stop obsessing about getting things done. Let go a little and have fun!
"From day one, the culture at Continued has been very family oriented and focused on work–life balance." 
Thompson at the 2018 company meeting in Atlanta.

What are the top three must-dos on your bucket list?
See wild mustangs running free
Vacation in an overwater bungalow in Bora Bora
Learn to not stress over things I can't control (a work in progress!)
Excluding faith, family, or friends, what are three things you can't live without?
My Kindle Paperwhite
A nail file
The ability to laugh long and loud