Continued enthusiastically supports work–life balance and encourages team members to leverage the flexibility that the virtual workplace affords.
For many Continued team members, "working from home" has translated into working from anywhere and offers more opportunities for travel. Some team members have even made the road their full-time home and office.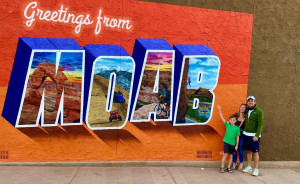 "Working from the road has allowed my family to experience a true adventure," said human resources manager and health coach Amy Martin, who spent most of a year traveling the United States in an RV with her husband and son. "We've met people from all over the country, spent time in nature, and learned so much history along the way. None of this would have been possible without having the support and encouragement of this organization to truly take advantage of working where you want to work." 
Here are a few tips from Continued team members on working remotely while traveling:
LEVERAGE TIME ZONES | PRACTICE BEFORE TRAVELING | MANAGE EXPECTATIONS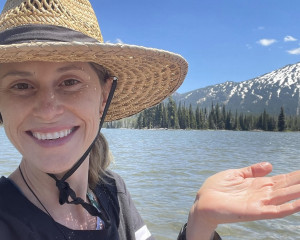 Shortly after joining the fully remote Continued team, copywriter Jordan Kuntz set out to travel the U.S. while living and working in a motorhome. Along with her boyfriend and two dogs, she has traveled to 15 states and worked from many bucket list destinations. She has also taken advantage of time zone differences while on the west coast by working Central hours, which gives her more time after work for exploration.
For people looking to follow in her RV tracks, Kuntz recommends a practice run by working on your laptop in a location other than your home office before you start traveling. 
"If you can work from your backyard or a coffee shop, you can work from anywhere with reliable internet service," Kuntz said. "Preparing and practicing in advance will help you refine your setup and determine what you need to bring in addition to your laptop, such as a wireless mouse or noise-cancelling headphones." 
Kuntz warns that it's important to manage expectations; having the ability to work from anywhere still means that you have to work. While it's easy to imagine that you'd be happier working poolside for instance, you might discover that it's more challenging.
"I can't overstate how life-changing it has been for me to work remotely," Kuntz said. "Having the ability to work from anywhere has allowed me to travel to more beautiful places than any other time in my life."
ASSESS CONNECTIVITY IN ADVANCE | INVEST IN NOISE-CANCELING EARBUDS 
In her 15 years as Continued's educational technology director, the virtual workplace has given Leigha Jansen the ability to be present with family and take time for activities she enjoys, such as regular lunchtime workouts. Now that her young adult children have "flown the nest," she and her husband are experiencing another perk of remote work by dabbling in extended RV living. 
While they still call the Twin Cities of Minneapolis and St. Paul home, over the past year they have visited 10 national parks in 5 different states with a mix of vacation and remote work. 
Her No. 1 piece of advice for taking work on the road is to do your research. 
"For each destination, use apps, blog sites, and coverage maps to assess cellular coverage—I never dreamed I would be so concerned with the proximity of a cell tower!" Jansen said.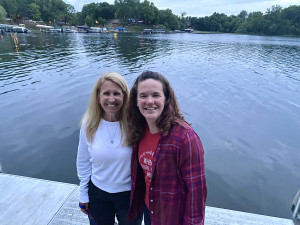 "It's also helpful to identify alternate workspaces so you have a backup in place if needed. For example, on a recent trip we discovered an inexpensive shared workspace with solid WiFi access, and most ranger/park stations have free WiFi that has saved me more than once." 
Jansen also suggests buying a great set of noise-canceling earbuds. She says AirPods have been a game-changing work tool when working in a smaller, shared space.
"Remote work affords us the opportunity to experience the majesty of God's creation," Jansen said.  
HAVE BACKUPS TO YOUR INTERNET CONNECTION | FILTER BACKGROUND NOISE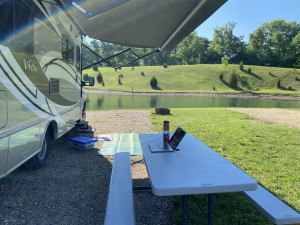 Continued product manager Kristine Simmermon and her husband have always enjoyed traveling as much as possible and spent a year in full-time RV living in 2021. 
"One of the reasons we chose RV life was to be able to live and work in nature," Simmermon said. "I'm so grateful this company embraces this type of work." 
Her main tip is to have backups for your backups when it comes to internet access. 
"We have several different hot spots with multiple carriers so we can tap into the best signal at our current location," Simmermon said. "When your job relies primarily on Zoom/Slack calls and videos, you cannot rely on campground WiFi to have the speed you need." 
She also advises a filter for background noise. On the recommendation from colleague and experienced traveler Ronaldo Olivas, she is using Krisp.ai, an app that removes background noise and echo from meetings and leaves only human voice. 
"I was once presenting in a meeting during a super loud thunderstorm, and when I listened back to the recording, it really did block all of that out."
UTILIZE 'OFF' DAYS AND HOURS AROUND WORK | PLAN AHEAD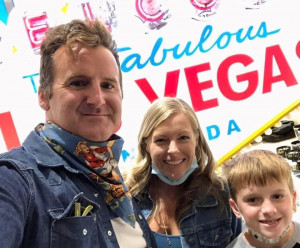 After years of dreaming about exploring the country, Continued's human resources manager Amy Martin and her husband sold their Kentucky home, downsized their possessions, and renovated an Airstream. Along with their son, they spent the better part of a year living, working, and schooling from their home on wheels. 
They recently put down roots in Florida but have kept the Airstream and plan to continue their road adventures. 
Martin says that before her family hit the road, they spent many months planning where they wanted to go. With more people working from the road than ever before, they were sure to book campgrounds and Airbnbs well in advance. She also suggests tapping co-workers who have traveled while working in order to glean from their experiences and seek advice.
She's learned that literally working while "on the road" is challenging, so it's better to physically move from place to place on the weekend or a PTO day. 
"If you're traveling on workdays, the 'cute coffee shop off the nearest exit' doesn't always exist," Martin said. "Juggling meetings, getting work done, and keeping a consistent internet connection while on the move is tough." 
Finally, she suggests planning enough time at each destination and utilizing time before and after work to explore the area. 
"We've spent time before and after work exploring national parks and have biked to the beach during our lunch break," Martin said. "If you stay close enough to the attractions you hope to visit, your lunch hour and before and after work hours allows more time to see and do." 
"Having the ability to work from anywhere has allowed me to visit and work from more beautiful places than any other time in my life." — Jordan Kuntz