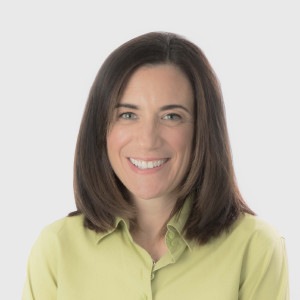 Stacy Williams, PhD, has devoted her career to innovative educational practices as a speech-language pathologist, researcher, and business leader.
The CEO of Continued and Simucase says that what she loves most about her job is that she gets to innovate every day.
"Our education sites provide deep learning opportunities for professionals and students," Williams said. 
"The topics in our course libraries are expansive, we appreciate and cater to various learning styles, and we're always looking for more technologies to embed within our platform to enrich the learning experience overall. What Continued and Simucase offer is more than continuing education to meet licensure requirements—we offer learning that truly makes a difference in daily work."
"What Continued and Simucase offer is more than continuing education to meet licensure requirements—we offer learning that truly makes a difference in daily work."
FRONT-LINE PRACTICE LEADS TO MACRO-LEVEL IMPACT: 
How Williams' research laid foundation for Continued's second-oldest learning site 
Williams has a long history with the company that dates back to her doctoral research. 
After earning a master's degree in communication sciences and disorders from the University of Cincinnati, she began working as a school-based speech-language pathologist, specializing in augmentative and alternative communication systems and patient software development. Through this front-line experience, she realized how great the need was for more advanced, automated communication solutions and wanted to make a macro-level impact on the profession.  
She returned to the University of Cincinnati to pursue a doctorate and became part of a U.S. Department of Education-funded research team tasked with designing an online continuing education platform to support school-based speech-language pathologists.
Meanwhile, Continued, which consisted of AudiologyOnline at the time, was looking to expand its education platform to include speech-language pathology and took notice of the online courses being developed by Williams and her colleagues. When the grant ended, the courses were given a broader home and became part of the foundation of Continued's SpeechPathology.com. 
FROM STAR TREK TO SPEECH-LANGUAGE PATHOLOGY: 
Cleveland-based simulation center leads to personalized online learning platform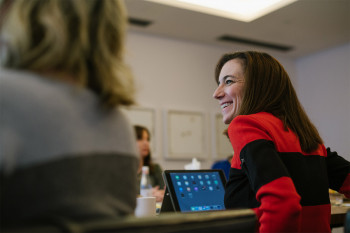 Upon completion of her doctorate, Williams was recruited by the communications sciences program at Case Western Reserve University to develop the world's first simulation center for communication disorders. 
As a junior faculty member and researcher, she envisioned a technical platform that would allow people with communication disorders to practice therapeutic interventions in real-life scenarios in order to study the disconnect that often happens between therapy and everyday life. 
Inspired by the Star Trek holodeck, Williams created the first interactive virtual reality speech therapy simulator to help patients with communication disorders. This 180-degree, three-screen theater, based at the Cleveland Hearing and Speech Center, allowed patients to use techniques learned in therapy and apply them in simulated situations that mimicked common interactions. 
Once again, Continued was interested in Williams' work and approached her with the idea of transitioning her simulation center from its physical location in Cleveland, Ohio, to an online platform that would educate students and potentially transform the future of continuing education. 
As a result, Williams joined Continued full time as president of SpeechPathology.com. 
"At that point in my life, I had spent years preparing to make an impact in my field through academia, so it was a huge shift for me to enter the business world," Williams said. "Deep down I knew we needed to make these educational tools available to more people, and partnering with Continued seemed like the perfect way to do it."
Today, Williams' initial research and product development is Simucase, which provides a clinical simulation and personalized learning platform for thousands of students and professionals annually. This patented simulation technology allows users to observe, assess, diagnose, and provide intervention for virtual patients. Members can master specific clinical skills, meet and evaluate clinical competencies, and practice interprofessional collaboration, all in a safe, no-risk, virtual setting.
Nearly 95% of speech-language pathology graduate programs nationwide use Simucase. Simucase also offers simulations in the fields of audiology, occupational therapy, physical therapy, radiography, and social work. 
TRAINING TODAY'S STUDENTS AND PROFESSIONALS:
Innovation permeates across companies, paves way for future  
Williams was named CEO of LaCalle Group—parent company of Continued and Simucase—in 2022 and applies her passion for innovation to the future of continuing education as a whole. 
"Innovation permeates all corners of our company, from what we produce to how we operate day to day," Williams said. 
"Our individual brands take an innovative approach to their craft, with each team composed of leading experts who are paving the way for the future of the industries we serve. The level of creativity, innovation, and excellence demonstrated on a daily basis is nothing short of amazing. I'm so excited to see what the future holds—there are truly no limits."
"Innovation permeates all corners of our company, from what we produce to how we operate day to day."
Williams is an adjunct associate professor at Case Western Reserve University and has served the communication sciences and disorders profession in local, state, and national leadership roles. She was elected a Fellow of the American Speech-Language-Hearing Association (ASHA) in 2020 and has served on the board of the ASHFoundation since 2017—currently as president-elect. The Department of Communication Sciences and Disorders at the University of Cincinnati named Williams as its Distinguished Alumnus Award recipient in 2022. 
She and her husband live in Cincinnati, Ohio, and have two adult children.