At Continued, we have built a team of dedicated, passionate individuals who keep culture at the forefront of all we do. 
In order to recognize team members who go above and beyond to exemplify our core values, we introduced a culture awards program to highlight these individuals who help us thrive as an organization. 
Culture awards are given on a quarterly basis through a peer-nominated process.  
Awards are based on exceptional demonstration of one or more of our core values: 
Be Reliable & Excellent
Communicate Openly & Effectively
Collaborate & Support Always
Act Like An Owner
Additionally, culture award recipients are recognized based on project achievements, innovations, system improvements, morale-building, and other culture-based considerations. 
Recipients are celebrated company-wide and receive a monetary award and custom memento. 
"We make culture our primary objective, and we are excited to recognize these award recipients who have been nominated by their colleagues for their dedication to the values we all hold dear," said HR Director Asher Primrose.  
MEET SOME OF OUR CULTURE AWARD RECIPIENTS  
VALERIE ENGLAND, DEVELOPMENT MANAGER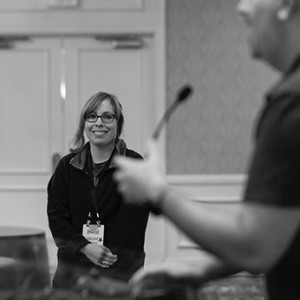 Valerie England, who joined the company in 2020, leads a team of web developers who work on building new and maintaining existing software for Continued. Her technical expertise is primarily in front-end web technologies, web accessibility, and DevOps tooling. She leverages this experience to assist the company in technical recommendations and strategic planning initiatives.
"Working on challenges alongside like-minded and talented coworkers while fostering the acquisition of new knowledge and skills for my team is extremely fulfilling to me both as an individual and as a manager," England said. 
"Our core values are emphasized throughout every aspect of the company, and I see them embodied at all levels on a daily basis. I am proud to work for a company that takes a strong stance on inclusivity, understands the link between it and innovation, and has taken concerted action to encourage diversity, equity, and inclusion both internally and externally."
"Valerie has been a true advocate for accessibility and psychological safety and goes above and beyond every single day for her team and this company. She has inspired ideas on how to ensure team engagement and foster a level of cross-discipline learning and support."
MAURA LAVELLE, MANAGER OF LEARNING AND SIMULATION DEVELOPMENT (SIMUCASE)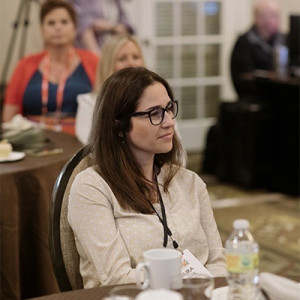 Maura Lavelle joined Simucase (Continued's sister company) in 2018 and develops and maintains simulation content for allied health professions. She also assists with curriculum design, research and development, content operations, and strategic initiatives.
She is an occupational therapist by training and says she loves that her role intersects education, healthcare, and technology all at the same time. 
"I am proud to work with such a passionate and purpose-driven team who creates innovative learning experiences for students' educational training," Lavelle said. 
"Our company truly is a work family who cares about one another, and it's refreshing to come to work every day."
"Not only is Maura always available to help, she's genuinely supportive in allowing her team to utilize their skills to create amazing learning opportunities. She understands that the utilization of strengths far outshines a focus on problems and is typically the first one to research how to fix an issue so that it benefits everyone involved."
RONALDO OLIVAS, DIRECTOR OF MEMBER MARKETING AND SUBSCRIPTION MANAGEMENT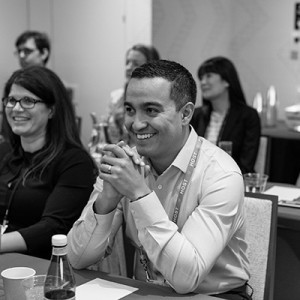 Ronaldo Olivas has served in a few roles since joining Continued in 2010. In his current role as director of member marketing and subscription management, he strives to increase member loyalty by consistently looking at ways to improve their interactions, experiences, and communication with the company.
"I love making the lives of the professionals we serve better and easier by helping them easily obtain high-quality, convenient continuing education," Olivas said. 
"The amazing, welcoming, family-like culture is what makes me most proud to work for this company."
​​"I laud Ronaldo's commitment to our culture and his leadership. He is a thoughtful communicator with a passion for diversity, and he embodies our core values, from reliability to open communication to collaboration and taking ownership."
MELISSA RUSCITTI, ASSOCIATE ART DIRECTOR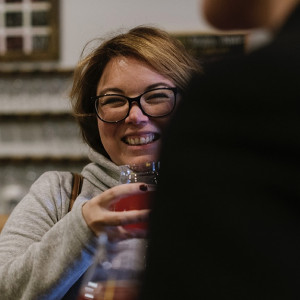 Melissa Ruscitti has been with the company for seven years and is part of the team that designs Continued materials such as advertisements, emails, flyers, and graphics. As associate art director, she helps maintain and develop the brand identity and manage the day-to-day projects of the design team.
"I'm so proud to work for a company that champions the skills and strengths of each and every individual we hire," Ruscitti said. 
"The attention to helping you be your personal best in and outside of work is rare and wonderful in a job."
"Melissa has gone above and beyond in the ability to manage change and embrace ambiguity with a 'can-do' attitude. Melissa is the hub of many teams and helps them reach their goals."