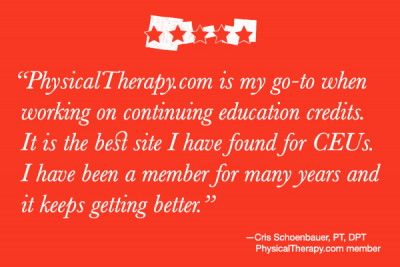 PhysicalTherapy.com, a leading provider of online continuing education, is celebrating 10 years of serving the physical therapy profession. It is part of the Continued family of learning sites.
Founded in 2012, PhysicalTherapy.com has since grown to serve thousands of physical therapists, physical therapist assistants, and athletic trainers who use the site to satisfy license and certification requirements and to meet professional development goals. 
"I am extremely proud to be part of this company's growth," said Calista Kelly, PT, DPT, ACEEAA, Cert. MDT. Kelly is senior managing editor of PhysicalTherapy.com and has been with the site since its inception. 
"Education and research are the driving forces in furthering our profession, and Continued believes in making high-quality education easily available and accessible to everyone. Education is the key to implementing evidence-based research into practice, which ultimately benefits the patients and clients served."
Today, PhysicalTherapy.com offers 500+ courses in over 30 topic areas and is a nationally recognized CEU provider. 
"The success of PhysicalTherapy.com is a reflection of our wonderful team, presenters, and members, who collectively made it what it is today," said CEO Tony Perlak. 
"For the past decade, PhysicalTherapy.com has held steadfast to our company's mission of providing an exceptional learning experience that enhances the lives and careers of those we serve. We look forward to what's to come in the next 10 years and beyond."
Continued offers educational content on the latest topics in audiology, early childhood education, occupational therapy, physical therapy, respiratory therapy, social work, and speech-language pathology, and is continuing to grow into additional specialties. 
Continued's OccupationalTherapy.com is also celebrating 10 years of serving the occupational therapy profession this year.