At Continued, we have built a team of dedicated, passionate individuals who keep culture at the forefront of all we do. 
In order to recognize team members who go above and beyond to exemplify our core values, we introduced a culture awards program to highlight these individuals who help us thrive as an organization. 
Culture awards are given on a quarterly basis through a peer-nominated process.  
Awards are based on exceptional demonstration of one or more of our core values: 
Be Reliable & Excellent
Communicate Openly & Effectively
Collaborate & Support Always
Act Like An Owner
Additionally, culture award recipients are recognized based on project achievements, innovations, system improvements, morale-building, and other culture-based considerations. 
Recipients are celebrated company-wide and receive a monetary award and custom memento. 
"We make culture our primary objective, and we are excited to recognize these award recipients who have been nominated by their colleagues for their dedication to the values we all hold dear," said HR Director Asher Primrose.  
MEET SOME OF OUR CULTURE AWARD RECIPIENTS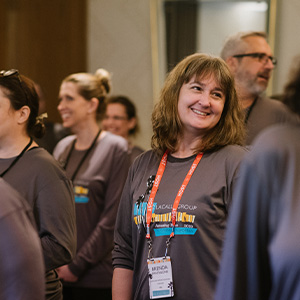 BRENDA BLUNT, SIMUCASE SUPPORT MANAGER
Brenda Blunt was part of the continuing education administration (CE admin) team for Continued before transitioning to Simucase (Continued's sister company) in 2013.
In her current role, she works directly with faculty and students as they navigate the site. In addition to assisting faculty and students via phones, LiveChat, and email, Brenda supports sales and supervision team members, completes video transcriptions, and leads student training.
As a former teacher, she worked with speech-language pathologists, occupational therapists, audiologists, social workers, and physical therapists to support her students and now uses those experiences to assist college students and faculty using Simucase. 
"As I think of this company, the first word that comes to mind is authentic," Blunt said. "We are able to have honest conversations, make decisions that align with our values, and feel encouraged daily.
I am proud to work with colleagues who are genuine and am excited to come to work each day."
"Brenda leads by example. She embodies model communication and compassion. She can always find a way to put herself into the shoes of others to try and see things from their perspective. She has the biggest heart and the coolest head."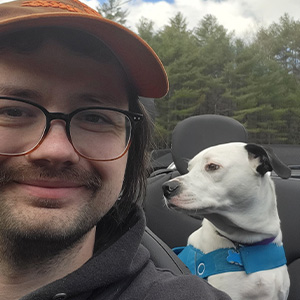 WILL PHILBROOK, SYSTEMS ENGINEER
Will Philbrook joined the Continued team in 2020.
As systems engineer, he is responsible for the maintenance and care of the company's servers. He is also involved in the creation of new infrastructure and processes to support the rest of the tech team.
He says no two days are the same and that he is constantly learning new things and developing unique ways to solve problems. 
"I love working for this company because everybody here is happy and unbelievably supportive of each other," Philbrook said. "I thought it was just folks being nice to the new guy at first, but almost three years later everybody is just as positive and encouraging as on day one."
"Will actively seeks out ways to help others within our team as well as across the organization. He's never afraid to charge into a problem and does it with a great attitude. Our business is better because of him. He is a true team player."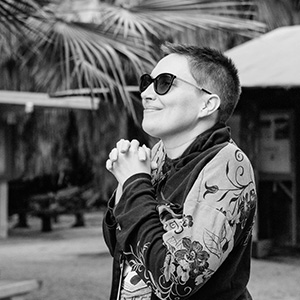 STEVIE ST. JOHN, SENIOR COPYWRITER
Senior copywriter Stevie St. John joined the team in 2017 as part of the marketing department. She and another copywriter write and edit copy for ads, emails, web pages, brochures, and other materials for Continued and Simucase.   
"I'm very fortunate to have a job where I get to spend most of my time working with words and doing a lot of fun projects, but what I love most about this job is really the people and the culture," St. John said. "It makes a huge difference to work with great people and for a company that invests in its culture."
She also serves on the company's diversity committee, Project Shift: Celebrating Diverse Voices. This committee includes team members from across the company who provide information and guidance to ensure that inclusion and equality influence all business practices. 
"The company's commitment to diversity and inclusion is also important to me, and I'm honored to be on the Project Shift team," St. John said. 
"Stevie is a fierce advocate for our company and our culture. It shows in her work, her interactions with other team members, her desire to keep growing as a copywriter through continuing education, and in her outstanding work on the Project Shift team."