___________________________________________________________________________________________
Our Continued Conversations series highlights the experts behind our content. Meet the presenters who make a difference in their fields and inspire our learners to do the same.
___________________________________________________________________________________________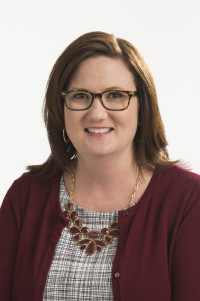 Continued presenter Amber Tankersley is a professor in child development at Pittsburg State University in Pittsburg, Kansas. She holds a bachelor's degree in elementary/early childhood education, a master's degree in elementary education, and a PhD in curriculum and instruction. 
She has worked in the field of early childhood for over 25 years as a preschool teacher, university child care center director, university instructor/professor, and director of a NAEYC-accredited preschool lab. She often presents at workshops and conferences on the topic of early childhood curriculum and the importance of play.
She teaches courses in early childhood curriculum, interacting with children, and parent/professional relationships.
"Online continuing education makes it easier for early childhood professionals to access specific information that will help them work with the children in their programs."
What led you to pursue a career in early childhood education?
I always wanted to be a teacher and initially thought that I wanted to teach high school history. I quickly realized that I clicked better with young children and changed my major to elementary/early childhood education. My field experiences with preschool-age children confirmed that I had found the age group that I was meant to work with.
Where has your career path taken you?
The summer after I graduated from college, I worked as a playground director for a local parks program. I coordinated activities and supervised children at a local park. I then got a job as a preschool teacher at the college that I graduated from in their child development program.
I worked for a few years as a preschool teacher and then ended up as director of the program. In that role, I started advising college students who were pursuing early childhood degrees, and this made me realize that I really liked working with people who want to work with young children. I also started teaching one course as an adjunct instructor and loved it.
I decided that I wanted to teach college full time, so I started a doctoral program. At the end of my doctoral program, I started working at a different university as an assistant professor and director of their preschool lab program. I am now a full professor and still the director of our preschool lab program.  
What inspired you to focus your research on the importance of play? 
I believe that children learn through play. Play is a natural vehicle for learning; children do not need to be taught how to play. There are so many different techniques and materials that claim to help children learn. But if children are not discovering through playful experiences then it doesn't stick with them. As an early childhood professional, my job is to prepare an environment that encourages children to explore and play; it is through play that a child learns what is needed at the moment.  
What makes you so passionate about the early childhood stage of development?
The early childhood years are so important; they are truly building the foundation for their future experiences. If we do all we can to make sure that children have access to what they need early on, then they will be able to adapt to whatever they encounter as they grow. Also, when working with young children, every day is different because children are so unique and they grow and learn at their own pace. It isn't a boring field!
Why is online continuing education important in your field, and why do you enjoy presenting for Continued? 
I think online continuing education makes it easier for early childhood professionals to access specific information that will help them work with the children in their programs. Online continuing education allows professionals a chance to "attend" fantastic training opportunities without traveling or taking time off from work. I enjoy presenting for Continued because I like sharing my experiences with others in hopes of ultimately improving experiences for children.  
View Tankersley's courses on Continued Early Childhood Education