Numerous Continued team members are giving back to their communities in extraordinary ways. 
As part of the company's commitment to its culture, Continued offers a gift match program or one paid day off each year to participate in a charitable activity. These programs make it possible for team members to offer their time or monetary contributions to the organizations most meaningful to them. 
From feeding the hungry to mentoring disadvantaged youth or volunteering with animal shelters, our team members' service efforts span a variety of causes and are making a difference across the country. 
"The fact our company supports volunteerism makes a huge difference in our ability to serve," said Carolyn Smaka, AuD, Continued editor in chief.
___________________________________________________________________________________________
SEE HOW TEAM MEMBER WENDY WOODS GIVES BACK: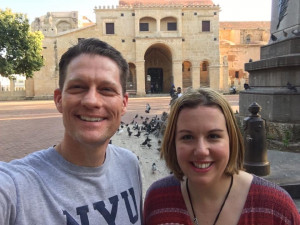 Wendy Woods knows firsthand that small projects can make a big impact. 
As a volunteer board member of The Pebble Project, Woods has experienced how small contributions can have a transformative ripple effect in communities of need. 
The Pebble Project is a nonprofit organization that raises funds for projects in disadvantaged communities. 
The organization was born following a trip that Woods took to the Dominican Republic in 2017 with a friend and fellow therapist. 
They focused their efforts on a primary school in Baní with wide-ranging needs, from the most basic of supplies to much-needed repairs and playground equipment. They collaborated with the principal at Carmen Sofia Villalona Primary School to identify and provide some immediate needs and also strategize longer-term plans to assist the school. 
"We showed up the first day with basketballs—something the kids didn't have—and seeing their smiles meant everything," said Woods, MA, CCC-SLP, telesupervision manager of speech-language pathology simulations for Simucase, sister company to Continued.
Shortly after this initial trip, The Pebble Project was officially established as a nonprofit organization, and Woods became a member of the board. 
Since that time, contributions to The Pebble Project have allowed them to donate additional school supplies, books, sporting goods, and playground equipment to the school. They also recently completed bathroom and kitchen renovations along with a school library addition.
Rather than only send money or supplies, volunteers like Woods travel directly to the community to identify needs, support the local economy, and purchase and deliver goods.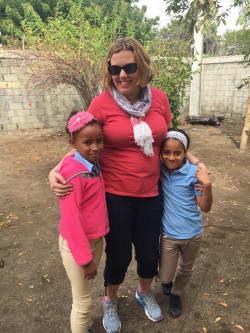 "As therapists, we want people to have access to things that are meaningful to them," Woods said. "We can't help the entire world, but we can make a positive difference that is realistic and sustainable by taking on small things. Just as the name of the organization implies—the ripple effect from one pebble can have a far-reaching impact." 
The Pebble Project hopes to expand to additional communities in the future, but the goal will always be to meet needs of vulnerable communities through a ripple effect of small projects. 
"Serving this organization has become my passion project," Woods said. "I am grateful that our company is so supportive of volunteerism and for the generosity of their gift match."