Longtime occupational therapist Fawn Carson recently experienced her most impactful OT training to date—as a patient herself. 
An OT for nearly 30 years, Carson, the senior managing editor of OccupationalTherapy.com, found herself on the receiving end of care after a skiing accident sent her into months of occupational and physical therapy. 
FROM SKI SLOPES TO OPERATING ROOM 
Carson and her family were spending the weekend at a ski resort they frequented in Ellicottville, New York. 
"I was feeling extra grateful to be there that day and was so excited to ski all day with my family and then have a good dinner together later that night," Carson said. 
They skied a few familiar black diamond slopes, but it was on an easier run when she suddenly felt herself tumbling. 
When she landed, she did so on her mid-femur, crushing it on her ski pole. 
Unable to move her leg, she was transported via snowmobile to a triage area at the resort and then loaded into an ambulance for an hour-long ride to the nearest hospital. X-rays confirmed two femur fractures and severe muscle damage. 
She was nearly 200 miles from her home in Cleveland, Ohio, so she and her husband decided she would be airlifted to University Hospitals Cleveland Medical Center, where her husband works, for the necessary surgery. She was put in traction for the night, and the operation took place the following day, nearly 24 hours post-accident. 
She went home a day later with a rod in her leg, a titanium nail in her femur, four stapled incisions, and extensive bruising.
Her work was just beginning. 
A THERAPIST IN THERAPY
Carson's mindset as she began therapy was, "I'm a therapist; I know this stuff." 
But during her first home visit with an occupational therapist, she almost passed out from the pain.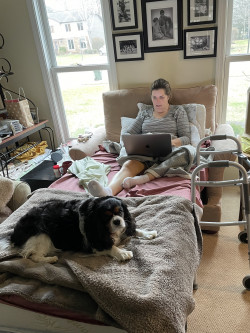 "I have done these very things as a therapist with my clients countless times, but when the shoe is on the other foot, it's really hard," Carson said. "I look back to all the times I worked with people who were struggling physically and emotionally, and not that I discounted their pain, but I think I would have been more empathetic with my clients if this had happened to me at a younger age." 
Her OT made a few home visits to help Carson with positioning and transfers, then physical therapy took over to begin the long journey of rehabilitating her leg. 
The family's downstairs living room became Carson's make-shift bedroom and office. Her leg had to remain elevated, so a pull-out couch served as her desk, bed, and table in one. 
She returned to work a week after surgery. In the evenings, her family would gather in the living room for meals and quality time. 
"While this was one of the most traumatic experiences of my life, it was also one of the best times in my life because of the closeness I felt with my family and the way they rallied around me," Carson said. "This experience showed me that even in the worst moments of life, you can find moments of joy." 
But despite the welcome distractions of work and family time, the nights were difficult. 
"Sleep ruled my whole world, and I had a lot of pain at night," Carson said. "I was sleep deprived, trying to work, and trying to be mom. I felt so emotionally raw."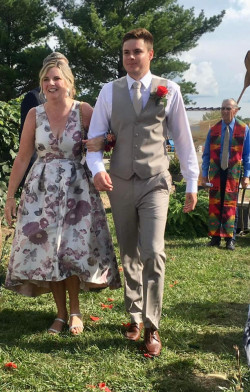 With her oldest daughter's wedding a few months away, Carson's goal was to be well enough by the ceremony to not only walk down the aisle but to do so in the high-heeled shoes she had planned to wear before her accident.
Therapy moved slowly at first, as she had to temper what she did during the day in order to manage her pain and get sleep at night, but progress was being made. 
Two months post-accident, Carson was able to attend Continued's all-company meeting in San Antonio, Texas. 
"By this point, I was getting around better, but I was still aware of every single step I took," Carson said. "It was so important to me to get to that meeting and be with my work friends. Making it there symbolized a lot for me." 
Her therapy and healing continued, and by September, Carson met her goal: She walked down the aisle at her daughter's wedding—and in her high-heeled shoes. 
"I am grateful for therapists and the great work they do. I wouldn't be where I am today without it."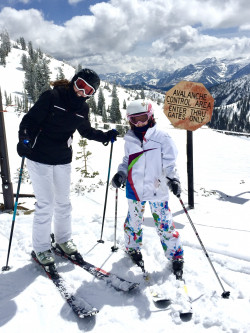 Today, Carson is back to most activities of daily living, although she is still reminded of her injuries if she puts too much pressure on her knee. 
She has yet to reconcile whether she will ski again, but until then, she cautions others to always wear a helmet when skiing and is grateful she was wearing one the day of her accident. 
From her therapist point of view, she says that her patient experience has given her a lot of clarity and empathy. 
"Now that I've been through this, I would tell all therapists to take the time to really listen to your clients and recognize how their experience is unique," Carson said. 
"I am grateful for therapists and the great work they do. I wouldn't be where I am today without it." 
UPDATE
Nearly one year later, Carson returned to the scene of her accident and took the opportunity to thank the first responders who helped her. While she elected not to ski on this trip, she has resumed all other activities. Additionally, she walks four to six miles per day and participates in Pilates a few times per week.