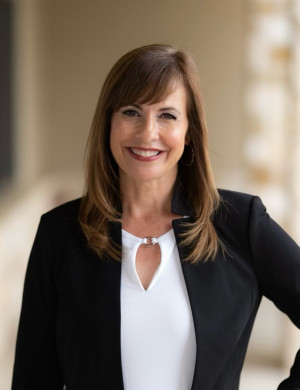 Tiffany Ellsworth Lee, MA, OTR, BCB-PMD, PRPC, has worked as an occupational therapist and manager in a variety of rehabilitation settings since 1994. 
She is the owner of Biofeedback Training and Incontinence Solutions and has a private practice in San Marcos, Texas, that is exclusively dedicated to the treatment of urinary and fecal incontinence and pelvic floor disorders. 
Lee started her career in the treatment of neurological disorders by utilizing surface EMG biofeedback and served as director of Florida Hospital's Biofeedback Clinic in Orlando, Florida. She later became board-certified in pelvic muscle dysfunction from the Biofeedback Certification International Alliance (BCIA) and received her Pelvic Rehabilitation Practitioner Certification through Herman and Wallace Institute. 
She is on faculty at Herman and Wallace Pelvic Rehabilitation Institute. She also offers clinical consultation and training workshops and mentors health care professionals working toward their BCIA certification.
"I am truly passionate about the work I am doing. It is fulfilling and extremely rewarding to help change people's lives." 
Why did you pursue the field of occupational therapy?
My parents loved being OTs! My father was a mental health OT in the army and specialized in working with soldiers affected by PTSD. He was also an OT professor and program director at the University of Texas Health Sciences Center in San Antonio. My mother was a pediatric, school-based OT. My parents loved their careers, and they inspired me to study OT. 
Where has your career journey taken you?
I became involved in working with patients with incontinence and pelvic floor disorders because of many opportunities along my career path.
I have been an occupational therapist since 1994. After marrying my husband in 1996, we moved to Orlando, Florida, for his family practice residency. I took a biofeedback therapy job at Florida Hospital and was blessed to be trained by the late Dr. Bernard Brucker, who was an amazing biofeedback rehabilitation practitioner. He taught me how to restore function in patients with neuromuscular disorders (CVA, TBI, SCI, and CP). I witnessed many miracles and could offer hope to patients with debilitating disorders. 
After relocating to central Texas to open my husband's medical practice, my former boss, Janet Walden, reached out to me about her success with biofeedback to treat incontinence patients. My first reaction was "No way!" But I decided to visit her clinic to see what all the fuss was about.
I listened to her patients tell me their stories of how incontinence made them feel embarrassed, depressed, and unlovable and decreased their intimacy with their partner. Since starting therapy, they all reported a renewed sense of joy and hope because of the quick results each one experienced. They had me hooked!
In 2004, I started a biofeedback program at Central Texas Medical Center in San Marcos and began work toward my pelvic floor board certification. 
My mentor, OT Louise Mark, gave me the amazing gift of passing her course materials to me upon her retirement, which allowed me to start teaching. Along the way, I met a wonderful woman named Jane Kaufman at a Society of Urologic Nurses and Associates conference, who also had a desire to teach. In 2009, we taught our first course and became even more passionate about treating patients with pelvic floor disorders. We continue to teach biofeedback board certification courses for pelvic muscle dysfunction. 
In 2017, I opened a private practice dedicated to pelvic health. I am currently back in school pursuing my post-professional doctorate of OT at Texas Tech University. My goal is to offer curriculum to OT programs about treating bladder, bowel, and sexual dysfunction.
What makes you so passionate about this area of practice? 
I cannot imagine doing anything else. My patients inspire me on a daily basis. I love celebrating with my patients when they throw away their pads, can go to church or work without the fear of leaking, can jump on the trampoline with their kids without leaking, can go dancing again, can be intimate with their partners without pain, and enjoy life again! 
Why do you feel that online continuing education offerings are important to professionals in your field? 
In OT school, we do not have enough education on bladder, bowel, and pelvic floor disorders. As a presenter, my goal is to reach as many OTs as possible to share this knowledge. Over 50% of our clients suffer from pelvic floor dysfunction, so we need the knowledge to help treat these clients. This will improve their quality of life! 
Continued is a great platform that allows me to teach a subject that is my passion. The online offerings can meet the needs of therapists' busy lifestyles. I am a big fan of Continued because it is affordable and convenient and offers high-quality education.