Our Continued Conversations series highlights the experts behind our content. Meet the presenters, contributors, and guest editors who make a difference in their fields and inspire our learners to do the same.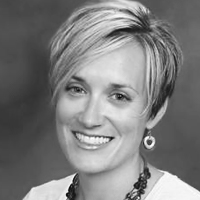 Sara Loesche, MS, OTR/L, CHT, is an occupational therapist and certified hand therapist with expertise in the role occupational therapy plays in work and industry. She has experience in work conditioning and performing on-site ergonomic assessments and teaches courses on this topic for Continued's OccupationalTherapy.com. She is an associate professor at Thomas Jefferson University in the occupational therapy assistant program and does clinical work with the Rothman Institute in Philadelphia. 
"I value being able to learn about my clients and students, listen to their 'story' and make a positive impact."
Why did you pursue the field of occupational therapy? 
I always had an interest in healthcare and medicine and knew I would choose a career in this field; however, I also value creativity and art. There are very few professions that merge the two avenues of interest like occupational therapy, so it was a great fit for me.
What makes you so passionate about your field?
No two days are the same because we are a dynamic, people-focused profession. This is true whether I'm working in a clinic with clients or teaching students in the classroom. The fact that I can't predict what will happen each day makes it interesting and requires problem-solving and the ability to adapt on a daily basis. I also value being able to take the time to really learn about my clients and students, listen to their "story," and make a positive impact—whether it is a client meeting their therapy goal or a student learning in the classroom so they can graduate and enter the profession. 
Where has your OT career journey taken you? 
The first half of my career, I worked full time as an occupational therapist while doing adjunct work at local universities on the side. After about 10 years, my roles flipped and I now work full time in academia and do clinical work on the side. Though my career initially started in pediatrics, I soon shifted to adult rehab settings, starting in acute care then moving to acute rehabilitation and eventually outpatient clinics. This is where I became interested in hand therapy and ergonomics and had the opportunity to do work-conditioning programming and on-site ergonomic job evaluations.  
What makes you interested in ergonomics, and why is it so important?
About 10 years ago I earned my hand therapy credentials as a CHT and more recently a certification in ergonomics as a CEAS—both requiring a more complex look at ergonomics. However, ergonomics at its simplest form is activity analysis and understanding the interaction of person-environment-occupation (PEO). These concepts are second nature to any OT practitioner. 
Ergonomics is often associated with work and industry, but I feel strongly about applying it to everyday life. One example is using ergonomic principles to promote occupational therapy's role in maternal health; for example, applying these principles can reduce the risk of musculoskeletal disorders in new moms.  
There are so many new and innovative interventions out there that focus on a client-factor level, like physical agent modalities or other manual techniques. While they may be effective in the short term, the problem may not be 'fixed' unless you address underlying habits, postures, and movements that caused it in the first place. This is why addressing ergonomics in OT interventions is greatly needed.    
With so many people working from home, what are a few key ergonomics tips you want people to know when setting up their home offices?
Look at your "big three" when it comes to office ergonomics: Chair, input devices (keyboard/mouse), and monitor. 
There is no one perfect office chair because everybody has a different body shape and size, but a chair with some adjustable features is best. In general, make sure your chair allows for your feet to be flat on the floor (or on a footstool), allows for neutral posture (hips and knees at right angles, lumbar curve of the spine maintained and supported, trunk at midline and neck upright), and elbows bent at right angles to access the keyboard while keeping your shoulders relaxed and away from your ears. Because standard desk and table heights rarely allow for this, you might need to consider raising the chair (and then using a footstool) for best posture. 
For input devices, make sure your keyboard and mouse are on the same surface and close to each other. Also make sure that the keyboard is flat and keeps your wrists neutral to both flexion/extension and deviation. There are so many types of mouses, so don't be afraid to try a different type.
Your monitor should be an arms reach away and the top of the monitor should be about the same level as your eyebrows so you can view it with a slight downward gaze, but without bending your neck. It is easy enough to put your monitor on a few books if you feel it's too low. Don't forget to give your eyes a break too. Every 20 minutes, look at something 20 feet away for 20 seconds – this is the 20/20/20 rule. 
Lastly, remember that a laptop does not follow ergonomic design principles—it's meant to be temporary and mobile. If you plan on working from a laptop long term, consider an external keyboard or monitor to allow for some adjustability and better posture.
"Look at your 'big three' when it comes to office ergonomics: Chair, input devices (keyboard/mouse), and monitor."
Why do you like working with Continued's OccupationalTherapy.com as a presenter?
As an OT practitioner, I'm always excited to learn new things and then even more excited when I can share what I learn with others. I also love figuring out how to visually present information and bring as many practical examples to my presentations as possible. I've done several presentations with OccupationalTherapy.com over the last few years and always find the staff so responsive and friendly to work with.