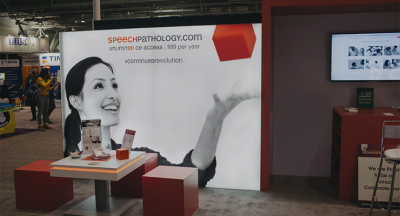 Team members from continued recently attended the 2018 American Speech-Language-Hearing Association (ASHA) Convention, held Nov. 15-17 in Boston.
The ASHA Convention is the premier annual professional education event for speech-language pathologists, audiologists, and speech, language, and hearing scientists.
"It's always wonderful to be surrounded by so many speech-language pathologists and audiologists at all levels of the profession. To see the excitement of new clinicians and students and interact with and learn from some of the top experts in the field is always such an honor." - Amy Hansen, managing editor of SpeechPathology.com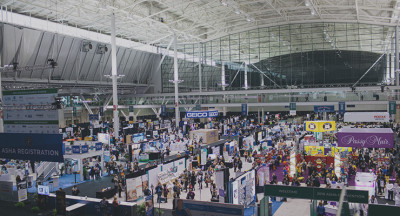 This year's convention saw a record-breaking number of attendees, with nearly 19,000 speech-language pathology and audiology students and professionals in attendance.
Team members greeted thousands of convention attendees at a booth representing continued's SpeechPathology.com. Booth visitors received a SpeechPathology.com-branded PopSocket phone accessory and also had the option to print photos from a specialized photo printer hosted at the continued booth.
"It's exciting to be part of the nearly 19,000 people gathered together under one roof to celebrate our profession and learn from one another. But, there are many more SLPs and audiologists than those represented at this convention, and that's where continued comes in—to provide online professional development for those who don't have the opportunity to come to face-to-face gatherings like this. Ultimately, professional development is about changing lives, especially the patients we all serve. - Stacy Williams, PhD, continued COO and CEO of Simucase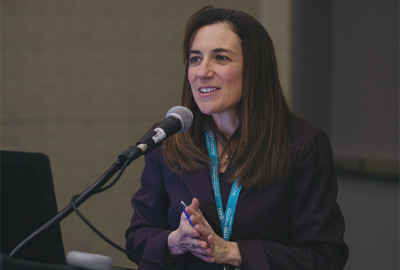 Stacy Williams, PhD, continued COO and CEO of continued's sister company, Simucase, presented at the convention with James Madison University's Carol Dudding, PhD, on revolutionizing curriculum through simulations. Managing editor of Simucase, Carol Szymanski, PhD, also presented on tele-supervision of clinical simulations.
Williams serves on the Board of Trustees for the American Speech-Language-Hearing Foundation (ASHFoundation), which supports and sparks innovation in the field of communication sciences and disorders.
"I'm so personally invested in the foundation because I've grown up with it," Williams said. "When I started in this field as a young student, I could always look to the foundation as a means of support for scholarship, guidance, and mentorship. Once I graduated, I had the support of the foundation both from a standpoint of research grants and other types of opportunities to support me as I continued to grow in my career. Serving on the board has brought me full-circle because now I have that opportunity serve other students and professionals in the same way, and it's such an honor."
continued is an avid supporter of the ASHFoundation, which helps provide resources for passionate and promising investigators exploring forward-thinking solutions and conducting groundbreaking research.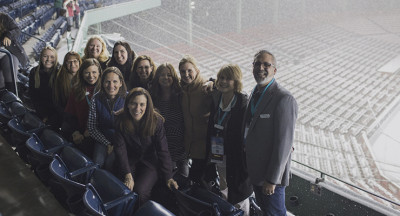 In addition to ongoing support, continued and Simucase were leading sponsors of the ASHFoundation Field of Dreams Fundraiser and dinner, held at the legendary Fenway Park, home of the Boston Red Sox. The sister companies also sponsored the ASHFoundation Annual Founders Breakfast, where funding and recognition awards are announced.
"This year we gave more than $640,000 to students, clinicians, and faculty-researchers to support their research trajectory," said ASHFoundation Board of Trustee Patricia Prelock, PhD, who is Dean of the College of Nursing and Health Sciences at the University of Vermont. "Having support from companies like yours ultimately helps the students, faculty, and clinicians who are making a difference for individuals who have communication disorders."   
"Everyone at ASHA is eager to learn, which is what continued is passionate about as well. We get to interact with so many people who value what we do and remind us of its importance." - Dana Lombardo, continued marketing manager
Follow continued on Facebook, Instagram, Twitter, and LinkedIn to see more from ASHA 2018.