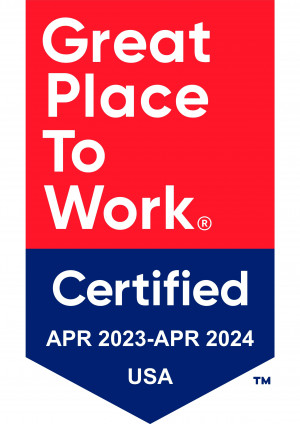 For the sixth consecutive year, Continued has been certified as a great workplace by the independent analysts at Great Place to Work®.
Continued, a leading provider of online continuing education, earned this recertification based on extensive ratings provided by its team members in anonymous surveys as well as an evaluation of the overall culture and benefits by Great Place to Work. Read a summary of these ratings and more about Continued.
Anonymous survey results indicated that 96% of Continued team members consider the company a great place to work and highly regard the organization's integrity, leadership, hospitality, and camaraderie. Further, 100% of survey respondents said that Continued is a safe place to work, that team members are made to feel welcome, and that people are treated fairly regardless of sexual orientation or age. 
"At Continued, we prioritize culture and attribute the organization's success to this philosophy," said CEO Stacy Williams. "We are honored to be a Great Place to Work-certified company, a designation that is a testament to our entire team and the ways in which we care about each other and those we serve."
As a 100% virtual organization since its inception, Continued emphasizes workplace culture as a fundamental building block of the company and attributes the organization's success to this philosophy. 
Continued provides a multitude of team member benefits, including: a robust wellness program with an annual stipend, health coaching, a company-provided fitness tracker, and more; diversity initiatives; flexible holidays and paid time off programs; an amended summer hours schedule; team member recognition programs; educational, financial, and legal service benefits; a company book club; charitable gift matching; and more.
"This designation is a reflection of our extraordinary team and the culture we've built together," said Asher Primrose, HR Director and For All Leader recipient. "Keeping culture at the forefront of all we do truly makes Continued a special place to work." 
Continued has been named by Great Place to Work® and Fortune as a Best Small & Medium Workplace™, a Best Workplace for Women, and a Best Workplace for Millenials. 
"Great Place to Work Certification is a highly coveted achievement that requires consistent and intentional dedication to the overall employee experience," says Sarah Lewis-Kulin, Vice President of Global Recognition at Great Place To Work. She emphasizes that certification is the sole official recognition earned by the real-time feedback of employees regarding their company culture. 
"By successfully earning this recognition, it is evident that Continued stands out as one of the top companies to work for, providing a great workplace environment for its employees."
See what some of our team members have to say about what makes Continued a great place to work.
About Continued
With more than 20 years of experience, Continued is a leading provider of online continuing education. The company's mission is to provide an exceptional learning experience that enhances the lives and careers of its members. Continued provides quality, affordable online continuing education courses and resources in multiple professions. A 100% virtual workplace from the beginning, Continued has team members who work from all over the United States. Great Place to Work® and Fortune have recognized Continued as a great workplace. For more information, visit continued.com.
About Great Place to Work Certification™
Great Place to Work® Certification™ is the most definitive "employer-of-choice" recognition that companies aspire to achieve. It is the only recognition based entirely on what employees report about their workplace experience—specifically, how consistently they experience a high-trust workplace. Great Place to Work Certification is recognized worldwide by employees and employers alike and is the global benchmark for identifying and recognizing outstanding employee experience. Every year, more than 10,000 companies across 60 countries apply to get Great Place to Work-Certified.
About Great Place to Work®
Great Place to Work® is the global authority on workplace culture. Since 1992, they have surveyed more than 100 million employees worldwide and used those deep insights to define what makes a great workplace: trust. Their employee survey platform empowers leaders with the feedback, real-time reporting and insights they need to make data-driven people decisions. Everything they do is driven by the mission to build a better world by helping every organization become a great place to work For All™.
Learn more at greatplacetowork.com and on LinkedIn, Twitter, Facebook, and Instagram.