Continuing education company again recognized among nation's elite workplaces for culture, business practices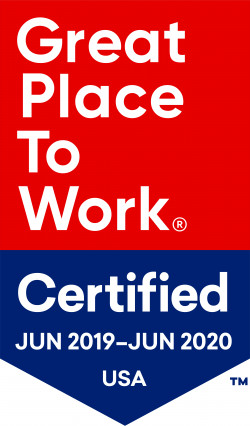 Continued, a leading provider of online continuing education, was recertified as a great workplace today by the independent analysts at Great Place to Work®.
Continued earned this credential based on extensive ratings provided by its team members in anonymous surveys as well as an evaluation of the overall culture and benefits by Great Place to Work®. A summary of these ratings and Continued's benefits can be found at https://www.greatplacetowork.com/certified-company/7010396.
"It is a tremendous honor to be recognized with this designation for a second year in a row," said Continued CEO Tony Perlak. "This certification is a reflection of the entire team and their commitment to our culture of collaboration, innovation, and excellence. I couldn't be prouder of the work we do every day and am thrilled to celebrate this accomplishment of again being named a Great Place to Work-Certified™ company."
The results indicated that 96% of Continued team members consider the company to be a great place to work, with 100% of survey respondents indicating that people at Continued are treated fairly regardless of sexual orientation, gender, or race. Further, 100% of respondents said they were made to feel welcome when they joined the company and would rate the service Continued provides—online continuing education programs—as excellent.  
As a 100% virtual company since its inception, the Continued team prioritizes workplace culture as a fundamental building block of the company and attributes the organization's success to this philosophy. 
In recent years, Continued has focused on enhancing its culture in a variety of ways, including "best in class" channels to connect in a virtual environment, innovation initiatives, flexible holidays and time off programs, a company book club, charitable gift matching, a wellness reimbursement program, a company-wide health coaching benefit, and a corporate Fitbit program. 
"I've known from day one that Continued is an exceptional workplace," said Asher Primrose, Director of Human Resources. "The company's leadership continually invests in the well-being of its people, and the daily commitment each team member makes to our culture makes this a truly special place to work." 
See what some of our team members have to say about what makes Continued a great place to work.
"We congratulate Continued on their certification," said Sarah Lewis-Kulin, vice president of Best Workplace List Research at Great Place to Work. "Organizations that earn their employees' trust create great workplace cultures that deliver outstanding business results."
About Continued 
Continued is a leading provider of online continuing education. Our mission is to provide an exceptional learning experience that enhances the lives and careers of those we serve. We offer quality, affordable online continuing education resources to a broad range of licensed, certified professionals in the fields of audiology, speech-language pathology, occupational therapy, physical therapy, and early childhood education. As a 100% virtual workplace, Continued's more than 100 employees bring talent, expertise, and dedication to the company's mission without geographic constraints.  
About Great Place to Work® 
Great Place to Work® is a global people analytics and consulting firm that helps companies of all sizes produce better business results by focusing on the work experience for every employee—our research shows there's a clear and direct relationship between employee engagement and financial performance. Over the past 25 years, we have captured the views of more than 100 million employees globally, helping organizations around the world identify and build high-trust, high-performance cultures. Powered by decades of research, Emprising®, our Software-as-a-Service survey and analytics platform, empowers companies with access to the assessments, data, and real-time reporting needed to help them create a meaningful impact on their business, their people, and their culture. Through our Certification programs, we recognize outstanding workplaces and produce Fortune's annual list of the 100 Best Companies to Work For, as well as a variety of other Best Workplace rankings in the United States and in more than 60 other countries. Everything we do is driven by our mission: to build a better world by helping every organization become a Great Place to Work For All by the year 2030. Read our new book: "A Great Place to Work for All: Better for Business, Better for People, Better for the World." Learn more at Greatplacetowork.com and on LinkedIn, Twitter, Facebook and Instagram.