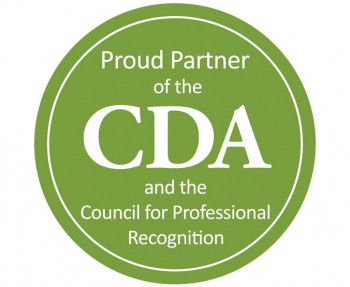 Continued Early Childhood Education is pleased to announce its official partnership with the Council for Professional Recognition (the Council), the national body that administers the Child Development Associate (CDA) National Credentialing Program.  
The Council partners with a wide range of organizations to help early childhood educators reach millions of young children around the globe. Council partnership is based on experience of the organization and readiness of both the Council and the organization to achieve the goals and benefits of the partnership.
Continued Early Childhood Education is listed under the national directory for CDA Credential preparation programs. This directory recognizes exceptional professional development experiences when earning the CDA Credential, which, early childhood educators can earn to demonstrate certain competencies. 
"Our partnership with the Council for Professional Recognition will benefit our members who are working toward their CDA Credential or renewal," said Jessica Lewis, managing editor of Continued Early Childhood Education. "We are excited to partner with the Council to further help our members develop the skills they need to succeed in their early childhood education careers." 
Continued offers quality, affordable online CE in multiple professions, including early childhood education. A Continued membership in Early Childhood Education includes access to the entire library of 250+ practical, research-based training courses. That includes CDA courses, which members can take to earn the required clock hours needed to apply for or renew the CDA Credential. 
More information about Continued Early Childhood Education
About the Council for Professional Recognition:
The Council for Professional Recognition promotes improved performance and recognition of professionals in the early childhood education of children ages birth to 5 years old. The Council recognizes and credentials professionals who work in all types of early care and education settings including Head Start, pre-k, infant-toddler, family childcare, and home visitor programs. As a nonprofit organization, the Council sets policies and procedures for assessment and credentialing. To date, over 800,000 CDA credentials have been issued around the world. 
About Continued: 
Continued is a leading provider of online continuing education. Our mission is to provide an exceptional learning experience that enhances the lives and careers of those we serve. We offer quality, affordable online continuing education resources to a broad range of professionals in the fields of audiology, early childhood education, occupational therapy, physical therapy, social work, and speech-language pathology. Continued is a 100% virtual workplace. Our team members bring talent, expertise, and dedication to the company's mission without geographic constraints.