At Continued, we have a team that is more like a family. What's our common DNA? A willingness to collaborate, high levels of motivation, an appreciation for others, creative thinking, and a passion for lifelong learning. Get to know our family member Heidi Proctor and how she illustrates the six sides to our story. 
Heidi Proctor joined the Continued family in 2018 as a member of the customer experience team and serves as a direct liaison to continued's members.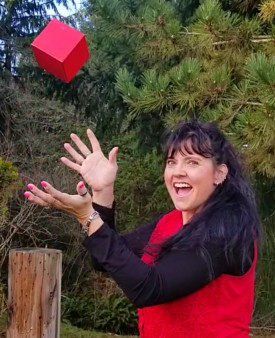 She and her team work with members to educate them about the company's services and how Continued's courses can meet their licensing and certification renewal needs. They collaborate with teams across the organization, including continuing education administration, editorial, and education technology, to address members' questions about CEUs and Continued's family of online learning sites. They also help solve members' computer woes and build rapport by treating each caller as a valued individual.
Proctor came to Continued with more than 20 years of experience in marketing and call center roles. She and her husband, Keith, live near Mt. Rainier in Carbonado, Washington, and care for many rescued or physically challenged animals. She volunteers as an emergency responder with the Washington State Animal Response Team to rescue animals and set up shelter for livestock and companion animals in the event of disasters.

What do you like best about your job?
Who wouldn't love working from home? I previously commuted three hours per day, so now I have that time back to give to my home, my animals, and to the organizations I serve outside of work. Also, I truly love helping people. Our team assists professionals who then go on to help others, so it's a win-win.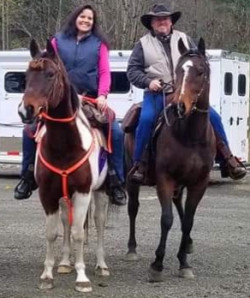 I also love the support we receive from the company regarding our health and wellness. I started out last year with big goals of a healthier body and was super excited about our access to virtual workouts, a fabulous health coach, and my company-provided Fitbit and wellness apps. However, my year took a turn when I broke my leg in two places while remote camping with horses. I called Amy Martin, our company health coach, and told her to scratch me off of her health coaching list for a while, but she wasn't going to let me quit and quickly turned my goals around to a different tune! Amy helped me with things I could do within my workspace during the workday to help expedite my healing process and complement the physical therapy I was getting outside of work. I also had my customer experience colleagues and other Continued peers behind me, plus my husband and parents cheering me on. I could not have asked for a better support group during this challenging time in my life and feel blessed beyond words. I've never worked for a company that has this level of camaraderie. 
What is your home office like? 
My favorite thing about where I live is the view from my office window. I am 13 miles from the center of Mount Rainier in the foothills, amongst trees with a small view of the mountain. The wildlife that I see here combined with my own animals make me happy all day long. My outside animals currently include three goats, four horses, two feral cats, and nine rabbits, plus I have a view of a koi pond and often see deer roaming our property. Inside, I have four well-behaved dogs at my feet and a cat that likes to walk across my keyboard while I use my standing desk that I purchased with my wellness reimbursement stipend.
"Everyone at Continued is truly passionate about what they do. I've never worked for a company that has this level of camaraderie."
What is your favorite holiday, and why?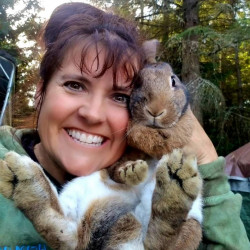 My favorite holiday is Easter because it is a turning point of winter to spring. I start hearing frogs and coyotes and see the signs of things sprouting and wonder how they survived the winter. I love the sound of birds and the smell in the air and knowing that flip flop season is coming soon. I have had real rabbits in my life for 46 years, thus the commercial side of this holiday makes it easy to decorate with all my flowers and bunny décor.
Excluding faith, family, or friends, what are three things you can't live without?
Companion animals 
Coffee with heavy cream
Pretzels with beer cheese
What's your favorite way to waste time?
Managing our animals and our property, which we call Critter Mountain Ranch, plus working and running a household doesn't leave me with much time to waste. However, I truly love binge watching a Netflix series with my husband during winter months, and I also enjoy traveling, horseback riding, motorcycle riding, backpacking, hiking in search of shed antlers, and photography. 
What is your favorite company memory?
At the 2018 company meeting in Atlanta, a few of us put on our warmest clothes and went kayaking in 36-degree weather for six miles. At the 2019 company meeting in Palm Springs, California, we worked together in groups on a scavenger hunt and had so much fun doing it. Since we all work remotely, everyone values our time together at company meetings.